iFixit Lowers iPhone 14's Repairability Score Due to Apple's Parts Pairing Requirement
Repair website iFixit today announced that it has retroactively lowered its iPhone 14 repairability score from 7/10 to 4/10 due to Apple's post-repair parts pairing requirement, just over a year after the device launched.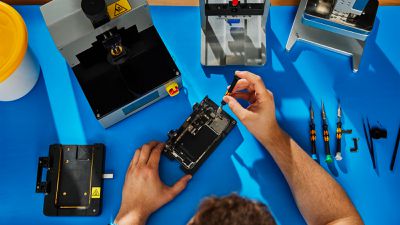 When purchasing parts from Apple's Self Service Repair Store, a customer must enter a device's serial number or IMEI, and any parts ordered need to be paired with the same device after installation in order to function correctly. iFixit said lots of independent repair shops have business models that are threatened by this requirement.
iFixit initially praised the iPhone 14's internal redesign with a more repair-friendly mid-frame, which has since extended to the iPhone 15 Pro and Pro Max, but it decided to revise its score in light of feedback from the repair community.
"Although we enthusiastically awarded it a solid score at launch last year, thanks to its innovative repair-friendly architecture—of which we remain big fans—the reality for folks trying to fix these things has been very different," said iFixit CEO Kyle Wiens, in a blog post. "Most major repairs on modern iPhones require Apple approval. You have to buy parts through their system, then have the repair validated via a chat system. Otherwise, you'll run into limited or missing functionality, with a side of annoying warnings."
iFixit is referring to Apple's post-repair System Configuration software tool, which "authenticates genuine Apple parts, updates firmware, and calibrates parts to ensure maximum performance and quality," according to Apple. In June, Apple announced that customers completing their own repairs can now initiate System Configuration by placing their devices into Diagnostics mode and following the on-screen prompts.
iFixit's blog post provides an overview of the various functional issues and warnings that can arise when System Configuration is not completed.
All in all, while iFixit acknowledges that Apple has made some progress in the Right to Repair area, it has decided that it needs to hold the company to a higher standard, and it has adjusted its repairability scoring system accordingly.