Peloton Now in Trouble Thanks to Apple Fitness+
Peloton's business model is in peril due to the growth of Apple Fitness+ and a clash of interests in the digital health space, according to analyst Neil Cybart.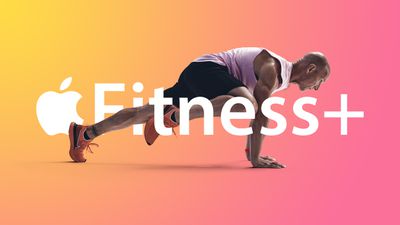 In a thread on Twitter, Cybart explained that despite rapid expansion in recent years, Peloton is now "in a precarious state." As a business, Peloton has high customer acquisition costs, translating to high product pricing. The company recently reduced the price of its entry-level bike by almost 20 percent to $1,495, in an attempt to drive up sales through the end of 2021. Despite this, "interest in Peloton is declining," Cybart explained, and the company's state is indicated by its decreased number of workouts and poor guidance.
The analyst went on to diagnose Peloton's core issue: Peloton essentially wants to become a digital health platform in the long term, leading it to clash with Apple, which already has a strong foothold in the consumer health market with the Apple Watch and HealthKit.
Peloton is unable to compete with Apple on price. Apple Fitness+ is basically free when thinking of the Apple One bundle. That makes Peloton's $13/month digital classes a hard sell. Peloton won't be able to compete with Apple's wearables strategy either. 6/x — Neil Cybart (@neilcybart) December 28, 2021
There is also a clear rivalry between Peloton's digital classes and Apple Fitness+. Notwithstanding the high-entry cost of Peloton equipment compared to Apple Fitness+'s equipment-lite approach, Peloton's classes are markedly more expensive than Apple Fitness+. When paid monthly, Peloton is $3 more expensive than Fitness+ $12.99 per month, and paid yearly, Peloton is $75.89 more expensive.

Apple Fitness+ can also be used by up to six people for no added cost and has family-friendly content, while Peloton Digital only works for one person and is rated for adults only, pushing up the cost for a Peloton All-Access Subscription to create separate profiles, working out to $388.01 more than Fitness+ when paid annually. Apple Fitness+ is also available as part of the ‌Apple One‌ Premier bundle for $29.95 per month, making it essentially free for heavy users of Apple's other services.
Despite being somewhat reliant on Apple, leveraging the Apple TV and GymKit, Peloton has also had a contentious business relationship with Apple as it struggles to navigate digital platforms it does not control.
Cybart used Google Trends data to show that Peloton has failed to generate enthusiasm to gain additional users, worsened by what is believed to be a disappointing 2021 holiday season for the company. He believes that without a major change in 2022, "Peloton is on track to be a Fitbit 2.0 - a company unable to compete with the giants subsidizing health and fitness tracking as an ecosystem feature."