Apple Sticking With the Notch for the iPhone 14
Apple will retain the notch on 2022's 6.1-inch "iPhone 14" and 6.7-inch "‌iPhone 14‌ Max" models, according to recent reports.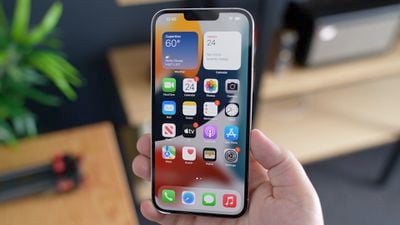 While initial reports suggested that some of next year's ‌iPhone 14‌ models would not include a notch, it now seems that the two standard ‌iPhone 14‌ models are ruled out for the significant design change.
Apple is believed to be working on a 6.1-inch ‌iPhone 14‌ and, to replace the largely unsuccessful 5.4-inch "mini" iPhone form factor, a new 6.7-inch size called the "‌iPhone 14‌ Max." These models are expected to continue to feature a notch, which saw a moderate, 20 percent size reduction with the launch of the iPhone 13 earlier this year.
The notch, which Apple calls the TrueDepth camera array, was a controversial design decision introduced in 2017 on the ‌iPhone‌ X, and it has remained largely unchanged on subsequent ‌iPhone‌ models until the ‌iPhone 13‌ and ‌iPhone 13‌ Pro, which slightly reduced it in size. As of the ‌iPhone 13‌, the TrueDepth camera array contains an infrared camera, a flood illuminator, front camera, and dot projector, with the speaker moved up to the top of the chassis.
While the ‌iPhone 14‌ models will have a notch, the high-end iPhone 14 Pro models are expected to swap the notch for a hole-punch display design, much like those seen on some high-end Android devices, according to Korean website The Elec.
The hole-punch cutout will allow Apple to provide more display area while still leaving enough space for the front-facing camera, but the design will mean that the hardware needed to facilitate Face ID will need to be positioned under the display.
Apple analyst Ming-Chi Kuo has repeatedly claimed that the ‌iPhone 14 Pro‌ and ‌iPhone 14 Pro‌ Max will feature a hole-punch camera design instead of a notch, and The Elec's latest report adds credence to the rumor.
With the hole-punch design expected to be exclusive to the ‌iPhone 14 Pro‌ models, Apple appears to be planning to use the notch to differentiate the standard and high-end ‌iPhone‌ models next year. For more on the 2022's ‌iPhone 14‌ models, see our detailed roundup.