Woman Credits Apple Watch Heart Rate Alerts With Saving Her Life
A former nurse practitioner has thanked her Apple Watch and its Low Heart Rate notification for likely saving her life, crediting the watch's advanced and proactive health and medical capabilities for alerting her to a potentially life-threatening condition.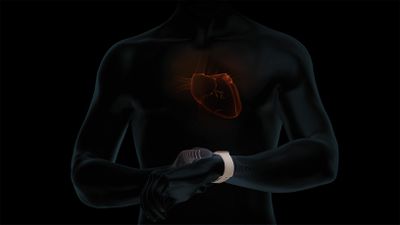 68-year old Patti Sohn was gifted an Apple Watch for Mother's Day by her son and has since developed a habit of closing her activity rings. Patti knew little of the watch's advanced capabilities, including that watchOS proactively monitors a wearer's heart rate in the background.
The watch can detect if a heart rate is alarmingly high or low beyond certain thresholds, and if so, alert the user. A low or high heart rate can represent more severe health conditions if experienced during non-physically intensive activities.
Speaking to local news channel KSDK in Oakville, Missouri, Sohn said that her Apple Watch vibrated her wrist and alerted her that her heart rate had been below 43bpm for the previous 10 minutes. "I thought, that can't be right," Sohn said in a reaction to the alert. As a former nurse practitioner, Sohn knew that the best thing to do would be to manually check her pulse using a blood pressure monitor, which confirmed the alert from the Apple Watch.
Thanks to the Apple Watch alert, Sohn was admitted to the hospital and was put under advanced cardiac care for her heart condition. Sohn's heart rate soon returned to a normal sinus rhythm, and her doctors discharged her, but a week later, her Apple Watch alerted her once again to a low heart rate reading. This time, Sohn's admission to the hospital was prolonged, and she had a pacemaker put in.
"I don't know what could have happened. I could have died," Sohn said about the situation. Many Apple Watch users have shared similar stories in the past, recalling how features on the watch, whether it be low or high heart rate notification, fall detection, or others, have changed and even saved their lives.
Starting with only the ability to track basic health metrics, newer Apple Watch models now allow users to take an ECG, check their blood oxygen level and heart rate, and more. There are also tailored features for older Apple Watch users, including fall detection, which can automatically dial emergency services and emergency contacts if a wearer has taken a fall and is unresponsive.
With the holidays coming up, the Apple Watch may be an ideal gift for grandparents or parents as it may motivate them to stay healthy and fit and keep an eye on their health. While the Apple Watch Series 7 packs Apple's most advanced wearable technology, the company also offers the Apple Watch SE at a lower price point while still supporting advanced features.