Rugged Apple Watch 'Explorer Edition' Could Arrive Next Year
Apple is considering offering an "Explorer Edition" variant of the Apple Watch that features a more rugged casing as soon as next year, according to reliable Bloomberg journalist Mark Gurman.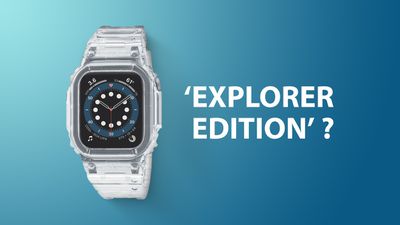 Gurman's report explains that Apple may release a rugged Apple Watch model to offer an appropriate option for individuals who need a more durable smartwatch:
Apple Inc. is considering launching an Apple Watch with a rugged casing aimed at athletes, hikers and others who use the device in more extreme environments, according to people familiar with the matter.

The Cupertino, California-based technology giant has internally discussed introducing such a Watch variation later in 2021 or 2022 at the earliest, said the people, who asked not to be identified discussing private matters.
Interestingly, Gurman says that this is not the first time Apple has considered a rugged version of its smartwatch. The company apparently mulled releasing a model that appeals to extreme sports athletes alongside the original Apple Watch, which launched in 2015.
If Apple goes ahead this time, the rugged version would be an additional model similar to how Apple offers a lower-cost option called the Apple Watch SE and special editions co-branded with Nike Inc. and Hermès International. Sometimes dubbed the "Explorer Edition" inside Apple, the product would have the same functionality as a standard Apple Watch but with extra impact-resistance and protection in the vein of Casio's G-Shock watches.
The latest Apple Watch models are water-resistant up to 50 meters, but Gurman suggests that Apple could make a new device more "rugged" with a rubberized, impact-resistant casing, making it less susceptible to damage in extreme environments compared to the current selection of aluminum, titanium, and stainless steel cases.
It is likely that an Explorer Edition Apple Watch would be able to cope with problematic substances like chemicals, dust, and sand more effectively. Such a model would likely appeal to athletes and hikers as Gurman mentions, but also individuals who are often in challenging environments, such as construction workers.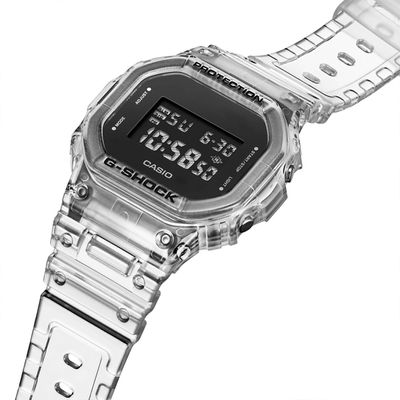 Casio G-Shock DW-5600SKE-7ER Skeleton Series Watch
Apple currently offers a number of Apple Watch model variants. The Apple Watch with an aluminum case is lightweight and more affordable, while the Apple Watch with polished stainless steel case is a heavier, more premium version with a sapphire crystal screen that is more resistant to scratches. The Apple Watch Edition is an even higher-end version of the smartwatch, featuring lightweight brushed titanium.
There is also the Apple Watch Nike edition, featuring unique, lightweight bands for exercise, and the Apple Watch Hermès offers designer leather bands and exclusive classic-style watch faces. It does not seem out of the question, therefore, that Apple could add another "Explorer Edition" variant to the lineup.
Gurman initially said that the Explorer Edition could arrive as soon as this year, but has since explained that it is more likely to launch in 2022 at the earliest. He also included the caveat that his sources say it could be ultimately canceled or delayed.
The Apple Watch Series 7 is expected to launch later this year. While there have been reports of micro-LED displays and solid-state buttons with haptic feedback for the Apple Watch, these features are not expected to arrive this year. Instead, Gurman has said we can expect a display with slimmer bezels, a faster chip, and upgraded Ultra Wideband connectivity.