Apple Watch Users Warned by Police Over Accidental Calls
Police departments are complaining that they are getting an increasing number of accidental phone calls from Apple Watch users, according to local news outlet Fox Kansas City.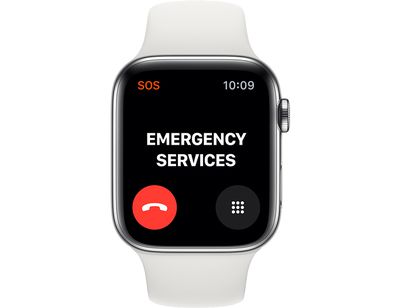 A spokesperson for Overland Park police explained that most of the accidental calls it receives seem to be coming from Apple Watch users, who unintentionally brush against the watch's screen or side buttons. Most of the time, those users are unaware that they have called the police until the call has been answered
"What happens is while people are moving around in their sleep or exercising, they'll get the Apple Watch into the emergency mode. Without knowing it, the watch will actually call 911," Overland Park Police Captain Jim Sutterby said.
On the Apple Watch, an emergency call can be placed when you press and hold down on the side button for several seconds in a row. When you set up your Apple Watch, Apple prompts you to turn it on, but if you chose not to, you can still enable it later on.

Police dispatchers are required to return calls that end with the caller hanging up or remaining silent, whereupon many callers claim that their Apple Watch triggered the call. Overland Park's 911 center receives around 250 calls per hour, but many end up distracting emergency dispatchers and draining resources meant for actual emergencies.
Sutterby advised Apple Watch users who accidentally call 911 to not hang up, and simply tell the dispatcher that the call was accidental. Industry sources speaking to Fox Kansas City urged Apple Watch users to use a protective case that makes the device's buttons harder to accidentally press and suggested that there is the option to turn off the SOS function.
Apple told Fox Kansas City that it was unfamiliar with the problem, but remarked that the Apple Watch's Emergency SOS function has been useful in life-threatening situations.