WWDC 2021 Apple Event Live Keynote Coverage: iOS 15, macOS 12, and More
Apple's all-online Worldwide Developers Conference (WWDC) starts today with the traditional keynote kicking things off at 10:00 a.m. Pacific Time.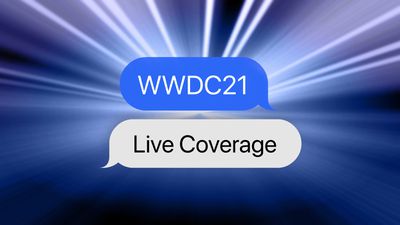 We're expecting to see a number of announcements, including iOS 15, macOS 12, watchOS 8, and tvOS 15, but it's unclear what else we'll be seeing at the event. While there had been some claims of redesigned MacBook Pro models making an appearance at the event, last-minute rumors have indicated that hardware announcements are unlikely this year.
Apple is providing a live video stream on its website, on YouTube, and in the company's TV and Developer apps across its platforms. We will also be updating this article with live blog coverage and issuing Twitter updates through our @MacRumorsLive account as the keynote unfolds. Highlights from the event and separate news stories regarding today's announcements will go out through our @MacRumors account.
Sign up for our newsletter to keep up with Apple news and rumors.

Live blog transcript ahead...
9:01 am: We're an hour away from the start of the event, which is scheduled to last two hours. Recent Apple media events have clocked in at around one hour, but we're expecting this one to last longer due to the developer focus of this event and the amount of material to be covered. Last year's WWDC ran for about an hour and 45 minutes.
9:43 am: With under 20 minutes to go, the live stream is now up and running on Apple's site. It's currently a crowd of Memoji greeting each other in various languages and expressing excitement for the event.
9:55 am: Five-minute warning! Get your snacks and drinks ready and find a comfy seat!
10:01 am: And we're underway! Starting with a developer video. "We asked developers to come up with an opening video."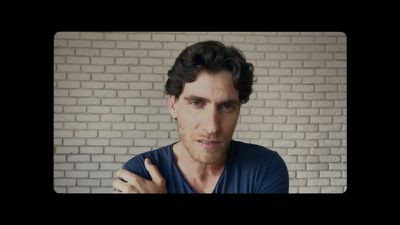 10:03 am: Developers pitching various ideas...Back to the Future theme, animated, "Our Journey Into Tomorrow," a musical about squashing bugs, etc.
10:03 am: Pitching an arena rock idea with actors portraying Cook and Federighi rocking out.
10:03 am: Tim Cook takes the stage to an audience of Memoji.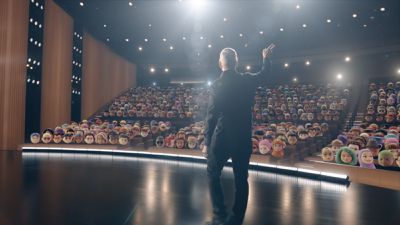 10:04 am: Welcoming developers and applauding the work they've done in a challenging time. Last year was our most inclusive and most-watched WWDC, which was exciting to see.
10:05 am: Highlighting diversity efforts, developer academies, Learn to Code initiatives, etc.
10:06 am: This year we're bringing over 200 sessions to developers, and the entire conference will be available for free. Let's get started with Craig and iOS.
10:06 am: Federighi giving an intro to iOS at the heart of our iPhones. Our new release is iOS 15.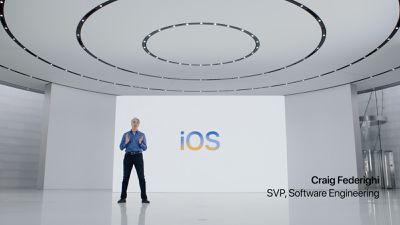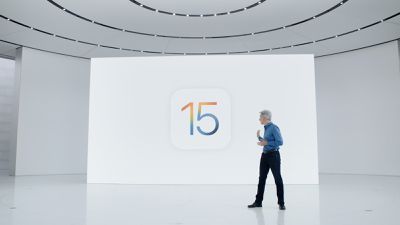 10:06 am: Main themes: staying connected, finding focus, using intelligence, exploring the world.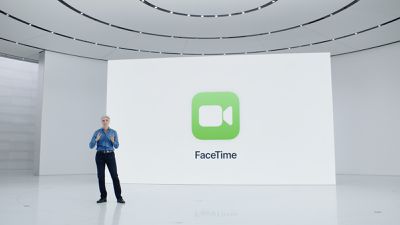 10:07 am: Staying connected: FaceTime is a standout with its intuitive design and end-to-end connection.
10:08 am: We're making ‌FaceTime‌ calls feel more natural and lifelike. Adding spatial audio to make it feel like you're sitting in the same room, and in group calls, your friends are spread out in the room.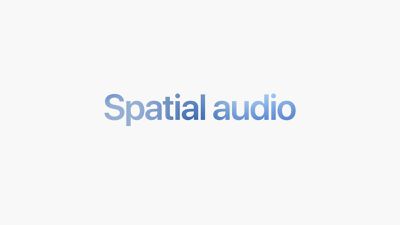 10:08 am: Voice isolation: Machine learning blocks out ambient noise and prioritizes your voice so it comes through crystal clear.
10:09 am: But sometimes we want every bit of sound, so you can switch to wide spectrum.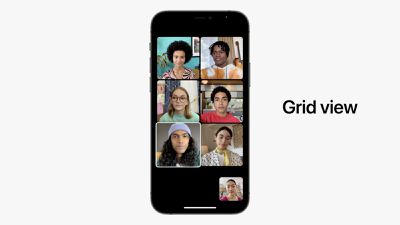 10:09 am: New grid view for ‌FaceTime‌ video. Clearly identify who is speaking while seeing everyone else's reactions. Portrait mode blurs background and focuses on you.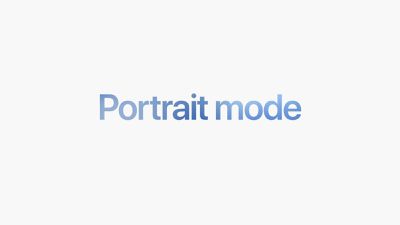 10:10 am: ‌FaceTime‌ links. Plan ahead for a call, and send via iMessage, email, WhatsApp, Calendar. Works on Android too right from the browser.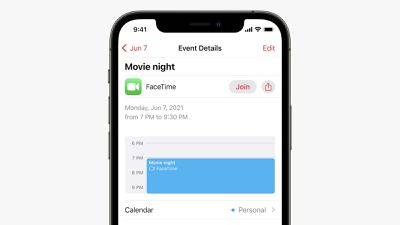 10:11 am: SharePlay: New set of features for shared experiences. Listen to music together, watch movies, share your screen.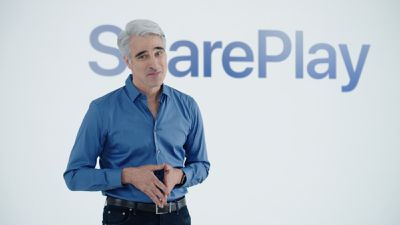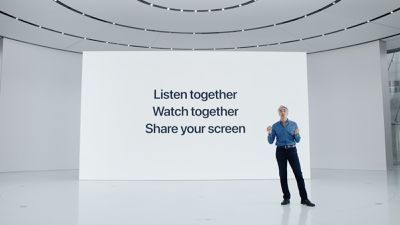 10:11 am: While in a call, just press play in Apple Music, and you have the option to push it into your call. Can use a shared queue for everyone on the call.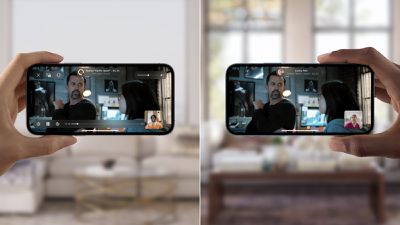 10:12 am: Similar idea with watching movies together. Controls are accessible with just a tap. Video can even be extended to your Apple TV while still sharing on your iPhone. Everyone remains in sync.
10:13 am: SharePlay API allows other apps to take advantage to bring their apps into ‌FaceTime‌. We're already working with Disney+, Huli, HBO Max, NBA, Twitch, TikTok, ESPN+, Paramount+, Pluto, MasterClass.
10:13 am: Share your screen: Browse Zillow listings with your friends, etc. Works across Apple devices.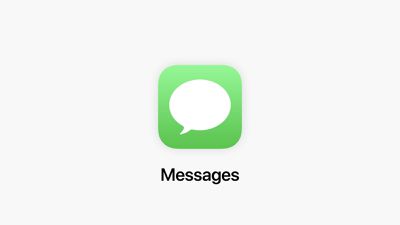 10:14 am: Now talking about Messages. New ways to share content. Mindy Borovsky giving an intro.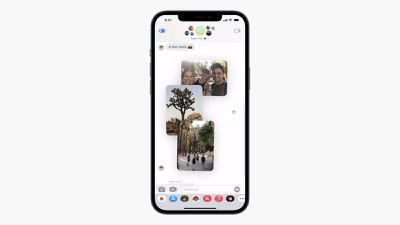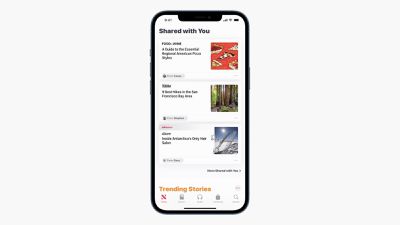 10:16 am: Photo collages and stacks: swipe through, expand, Tapback reactions, etc. If a link gets shared to you in Messages, it also shows in Apple News so you can easily get back to it. Same thing with playlists, which show up in ‌Apple Music‌.
10:16 am: Photo collections automatically brings over shared images and adds them to your Photos library, intelligently including them with your own photos from the same places/times.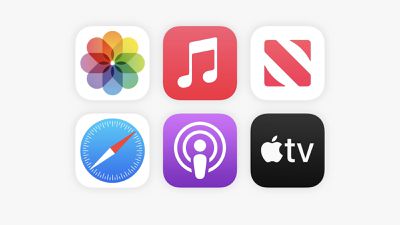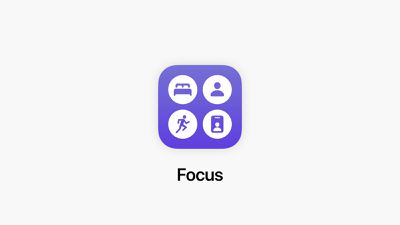 10:17 am: New tools for focusing. Our attention is pulled in so many directions these days, and finding balance is tricky. We want to help you be in the moment.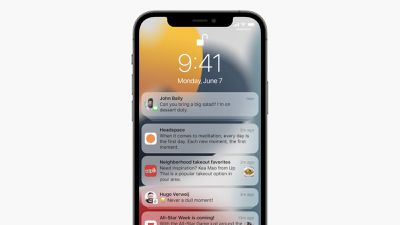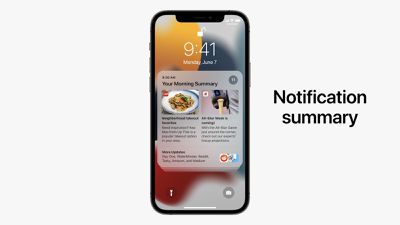 10:18 am: Notifications have a new look. Larger app icons and avatars to make more glanceable. Notification summaries can deliver them in batches at times you specify. They get ordered by priority. Notifications from people bypass the summary and are delivered immediately so you don't miss them.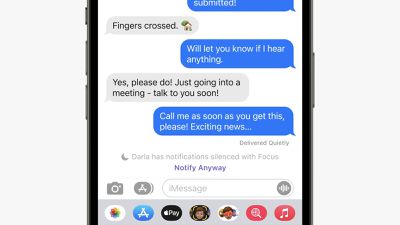 10:19 am: Do Not Disturb now shows as a status in Messages, and senders are alerted if they message you while you're on Do Not Disturb.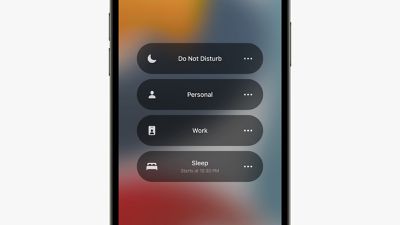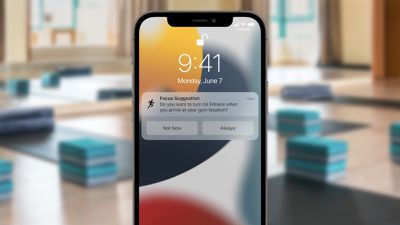 10:20 am: Focus: Carve out type for personal, work, etc. Automatically suggests people and apps to allow notifications from with that focus. Can set up Home screen focus so you only see work apps, etc. iOS can use location or time of day to suggest a focus. Automatically syncs across devices.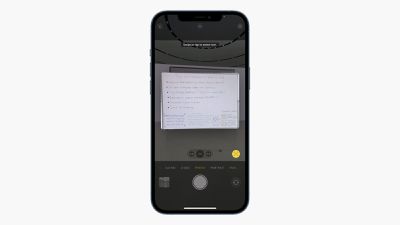 10:22 am: Intelligence features: Live Text. Demo of Camera app capturing text on a white board, can copy text right from a camera feed and paste into other apps like Mail. Works on photos too. Data detectors can detect phone numbers in photos and make them tapable. Supports 7 languages across ‌iPhone‌, iPad, and Mac.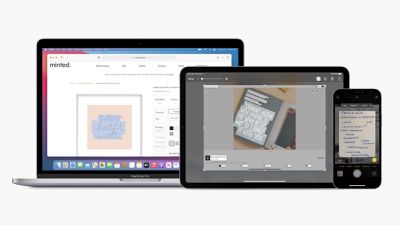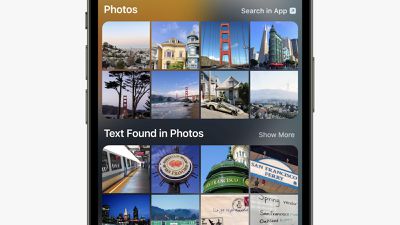 10:24 am: ‌Photos‌ search in Spotlight. Search by people, scenes, elements, location, even text in photo. New rich results for contacts in Spotlight. Location, photos, calendar appointments, etc.
10:25 am: Chelsea Burnette talking about Memories in ‌Photos‌. Now integrates with ‌Apple Music‌. Personalized songs from ‌Apple Music‌ can bring a memory to life. Built on the fly, with slideshows paced to the music. Customize memory mixes with different songs, looks, and pacing.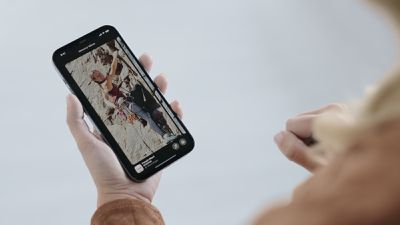 10:26 am: Personalized music recommendations based on your listening history and preferences, or you can search for any song.
10:27 am: Now Wallet, Weather and Maps updates. Jennifer Bailey to talk Wallet.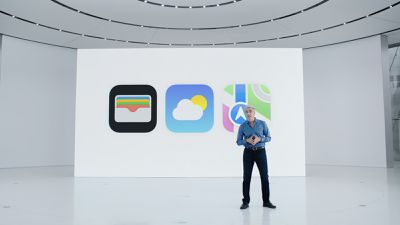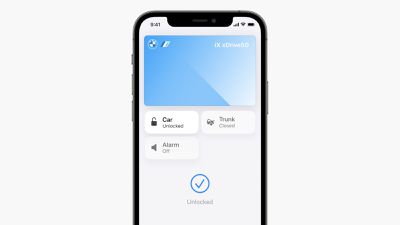 10:28 am: Recapping cards, transit, Disney World passes, car keys. Now with iOS 15 we're bringing other types of keys...home, work badges, hotel keys. Hyatt rolling out to over 1,000 properties worldwide this fall.
10:29 am: There's one more thing in order to rid yourself of your physical wallet, and that's your ID. In supported U.S. states, you'll be able to scan your ID and have it stored in Wallet. Secure and encrypted. Working with TSA for flights.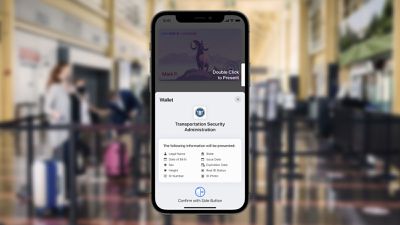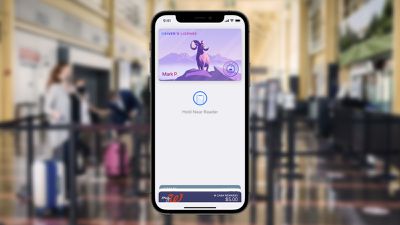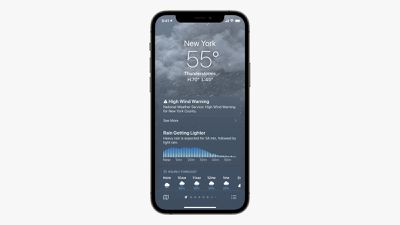 10:30 am: New design for Weather with layouts that change based on conditions. New graphics to better understand conditions like wind, UV, barometric pressure. Now thousands of variations of backgrounds to reflect sun positions, clouds, weather. New high-resolution maps.
10:31 am: Maps updates: Meg Frost recapping the new maps, coming to Spain and Portugal today, Australia and Italy later this year.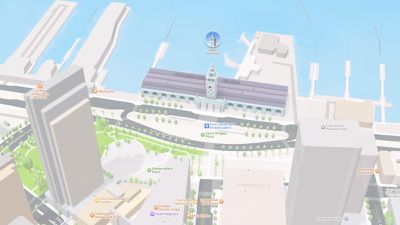 10:33 am: New zoomed-out globe view. In cities, new 3D look for elevation, custom-designed points of interest, elevation. With turn-by-turn directions, you'll see crosswalks, etc. to make things simpler for drivers. Live rendering of complex intersections and ramps.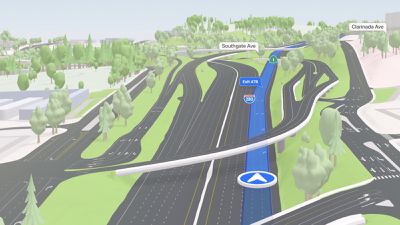 10:34 am: In transit mode, Maps follows your route, letting you know when you're approaching your destination. When you exit a station, scan buildings around you using the camera to get a highly accurate location and continue your journey. Coming to select cities by the end of this year.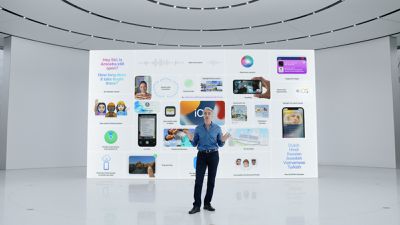 10:35 am: Wrapping up iOS 15: Voice search in Safari, cross-app drag and drop, new Memoji outfits, and more.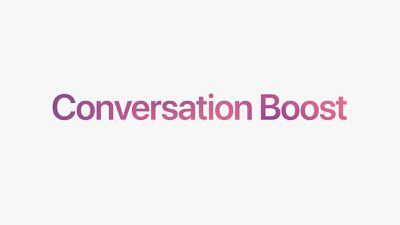 10:35 am: Gagan Gupta to talk AirPods. Conversation Boost helps people with hearing challenges to focus your AirPods Pro on the person talking in front of you.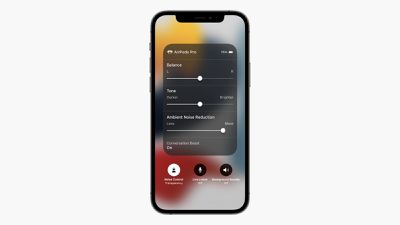 10:36 am: Siri can now read your important, time-sensitive notifications to you. With locations, ‌Siri‌ can automatically read your shopping list at the grocery store.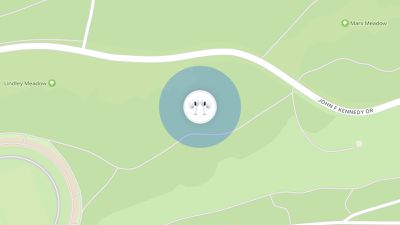 10:37 am: With Find My, it's easier to find ‌AirPods Pro‌ and AirPods Max. Proximity view like with AirTags. Can receive separation alert if you leave your AirPods behind.
10:37 am: Spatial audio coming to tvOS with dynamic head tracking. Also coming to macOS on M1-powered Macs.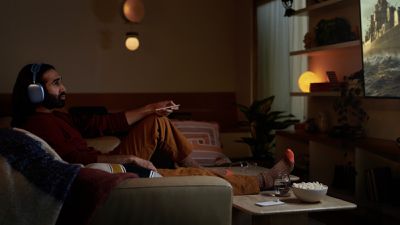 10:38 am: Dolby Atmos spatial audio in ‌Apple Music‌ launches today.
10:38 am: Now Craig to talk about iPadOS.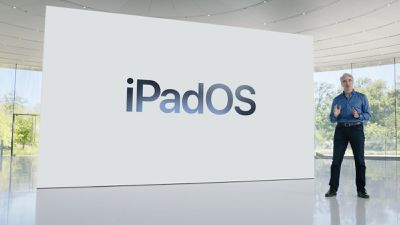 10:39 am: ‌iPad‌ becomes whatever you need it to be...photo browser, Markup tablet with Apple Pencil, work machine with keyboard.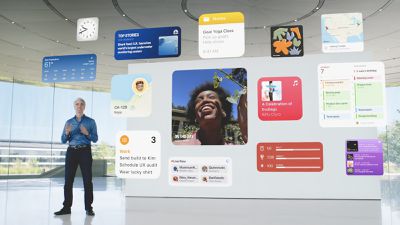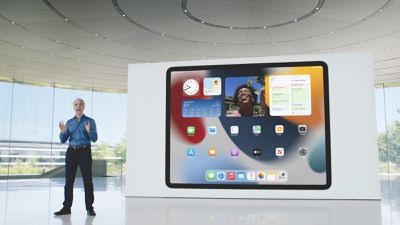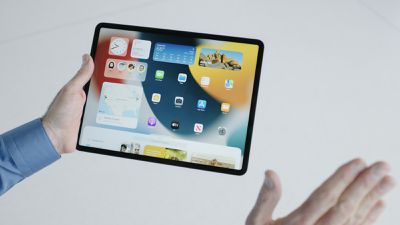 10:40 am: Home screen widgets: Can place them among your apps. Some new widgets including ‌Find My‌ and Contacts, Parcels, Game Center. Demoing adding a new widget. There's a new larger widget size option for ‌iPad‌.
10:41 am: App Library comes to ‌iPad‌. Built right into the Dock, so you can always get to it with a touch. Hide and reorder Home screen pages.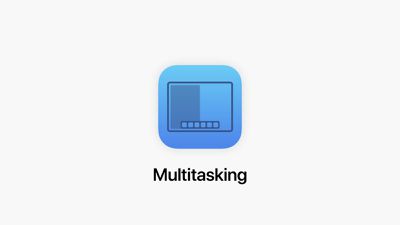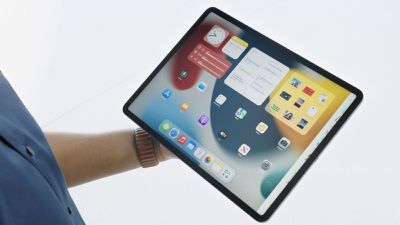 10:43 am: Multitasking improvements: Shubham Kedia demoing new multitasking menu to easily go full screen, Split View, or Slide Over. In Split View, just swipe down to replace an app with a new one for either side. Same thing works for apps with multiple windows.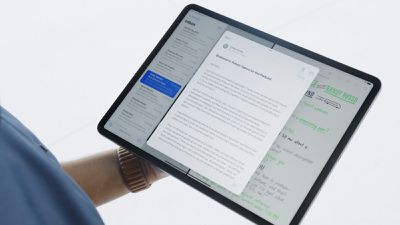 10:43 am: New are a called the Shelf that gives you access to all windows from a given app. Showing Safari where you may have many windows paired with other apps in Split View. See them all at a glance.
10:44 am: New keyboard shortcuts for all of these new functions.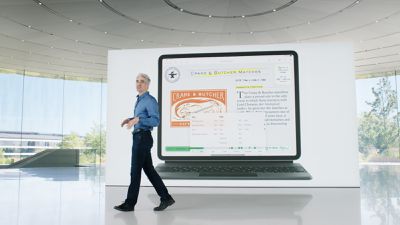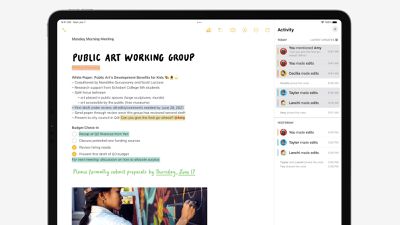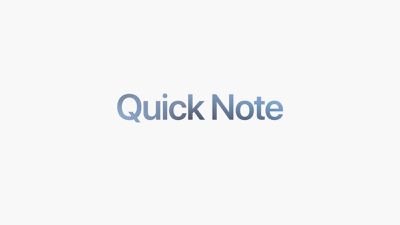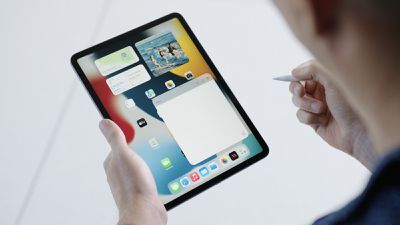 10:45 am: Notes improvements for collaboration and organization. With mentions, you can tag people and they'll receive a notification. Add tag anywhere in your note, and find using the tag browser. Quick note gets you to a note no matter what you're doing. Will Thimbleby showing how you can pull up a quick note from the Home screen using ‌Apple Pencil‌. Or from within Safari, etc.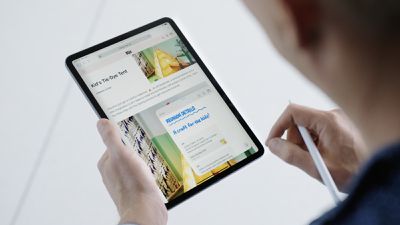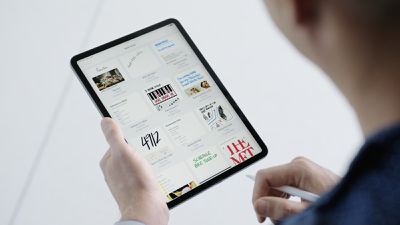 10:46 am: Quick Notes can be created on ‌iPad‌ and Mac, viewed and edited on ‌iPhone‌.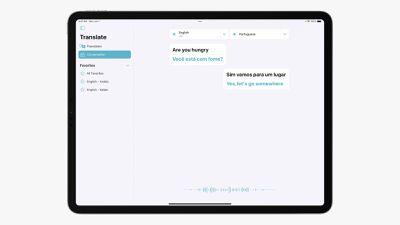 10:47 am: Translate app comes to ‌iPad‌. Auto Translate detects when you're speaking and in what language, and automatically translates for you. Systemwide translate works anywhere, including with Live Text.
10:48 am: Swift Playgrounds. Adding the ability to build apps on ‌iPad‌. Improved code completion, libraries, guides, and even submit to the App Store.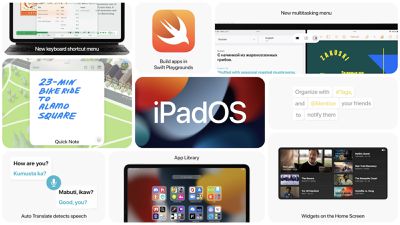 10:49 am: Craig is recapping iPadOS and heading into a segment on privacy.
10:51 am: Since the beginning, we've worked to keep your personal information under your control. Today, it's more important than ever. We don't think adtech firms and others should be tracking with you. Katie Skinner to talk Mail privacy improvements. Mail Privacy Protection: can choose whether to allow tracking pixels. Hides your IP address and locations, prevents senders from seeing whether you opened the email.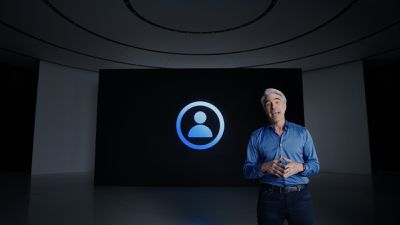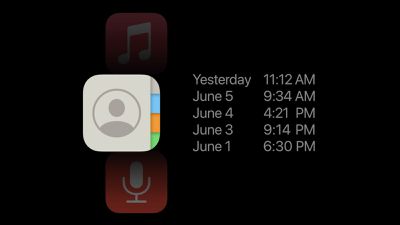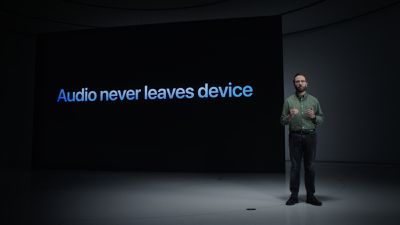 10:53 am: ‌Siri‌ has 600 million monthly devices using it. We've added new features like more natural voices, but today we're focusing on privacy. With Neural Engine, we can add on-device speech recognition. Audio never leaves your device. Many requests can now be made without an internet connection.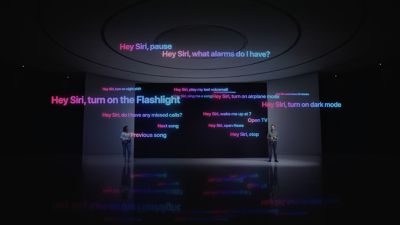 10:53 am: Showing off how much faster ‌Siri‌ can be with on-device processing.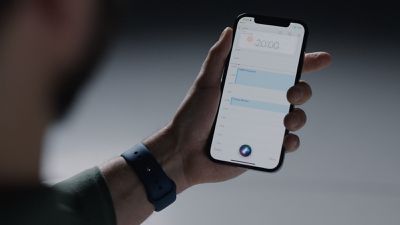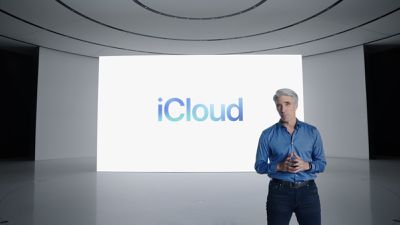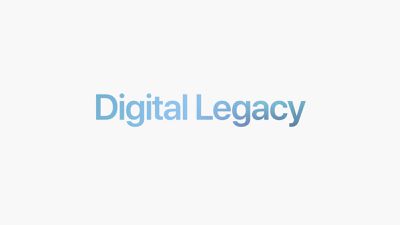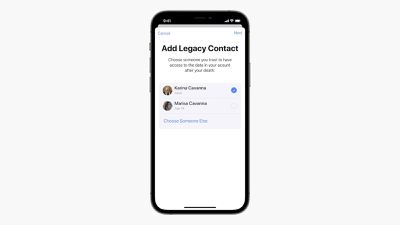 10:55 am: Mike Abbott to talk iCloud. Account Recovery if you forget your password, you can add trusted contacts like family or friends. They won't have access to your account, but you can call them to get a code to get you back into your account. Legacy contact will allow you to designate someone to have access to your account if you pass away.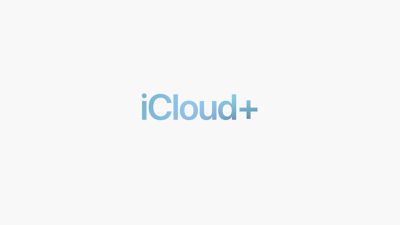 10:56 am: ‌iCloud‌+ combines ‌iCloud‌ with some new features like Private Relay, which lets you browse in Safari in an even more private way. Traffic leaving your device is encrypted and sent through two separate relays. No one, including Apple, can see who you are or where you're browsing.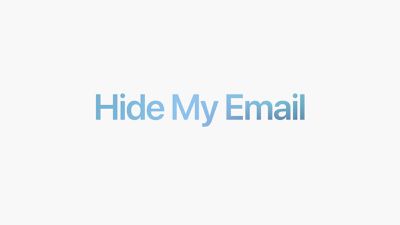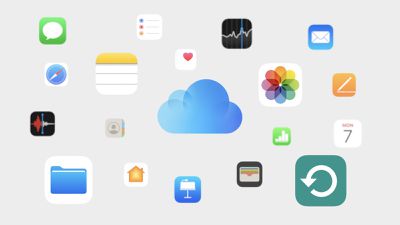 10:58 am: Hide my Email is built into Mail, Safari, etc. to use randomized, unique emails to forward to your main account. Expanded HomeKit Secure Video support with unlimited feeds. ‌iCloud‌ prices remain the same.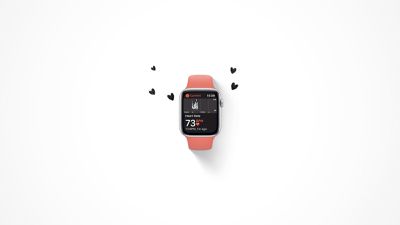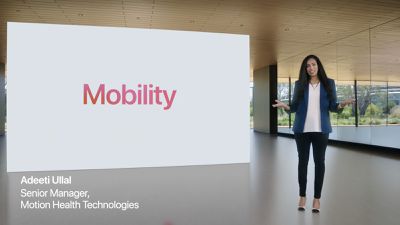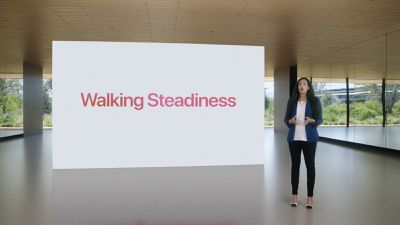 11:03 am: Sumbul Desai talking about Health. Three new features for identifying, measuring, and understanding health changes. Adeeti Ullal talking about mobility tracking. ‌iPhone‌ already captures mobility metrics as you walk, and there's a new Walking Steadiness metric to assess your fall risk. Measures speed and evenness of your walking, and leverages dataset from Apple's movement study to generate classification of your steadiness and how it changes over time.
11:04 am: Sumbul is back to talk about lab results. Can be hard to understand test results. Adding detailed description to help you better understand. See whether they're in expected ranges and get additional info on the metrics. And with Trends, you'll see long-term changes for metrics like steps, sleep, etc.
11:05 am: Can now share health data you choose with your physician in a secure way. Doctor can see in their health records system and see trends over time.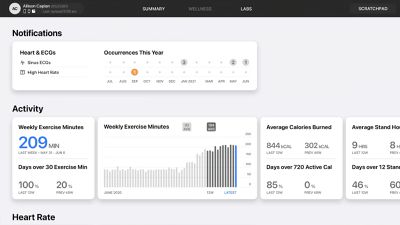 11:06 am: Health of family and loved ones...kids and aging parents in particular. Health Sharing is a private way to view trends and other data with permission.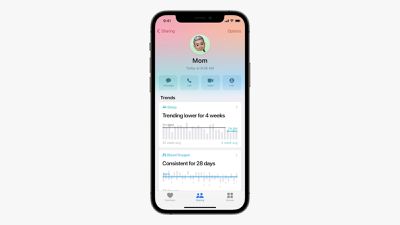 11:07 am: Can receive notifications like a significant change in an elderly parent's heart rate. Can easily start an iMessage with her to check on her.
11:08 am: Kevin Lynch coming on to talk about watchOS.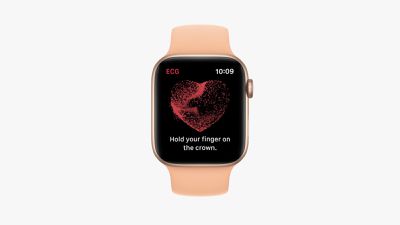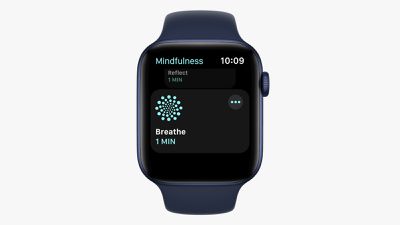 11:10 am: Respiratory rate trends can be monitored in the health app.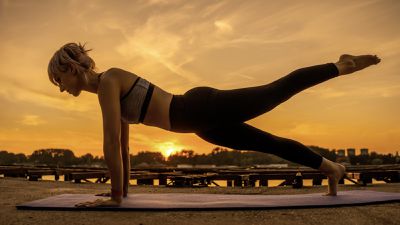 11:11 am: Julz Arney addressing new workout types: tai chi for meditation in motion. New pilates workout type. Fitness+ introducing new workout series with Jeanette Jenkins. New artist spotlight series in Fitness+ focuses on playlists from single artists.
11:13 am: ‌Photos‌ watch face is incredibly popular, and new Portraits watch face creates a layered look. Shandra Rica demos the 3D effect where the person animates against the background with a turn of the digital crown.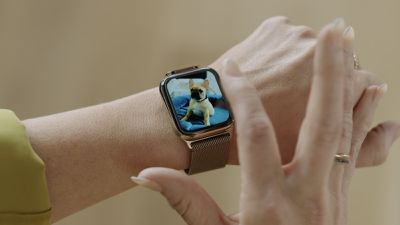 11:14 am: Showing new photo sharing in Messages and Mail directly from Apple Watch. Showing text editing using Scribble, adding emojis, using crown to position cursor, etc.
11:15 am: Lynch is wrapping up watchOS 8 and tossing it back to Craig to talk about the home.
11:15 am: Three key attributes for home technology: easy to use, better together, private and secure.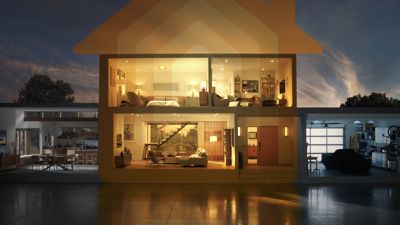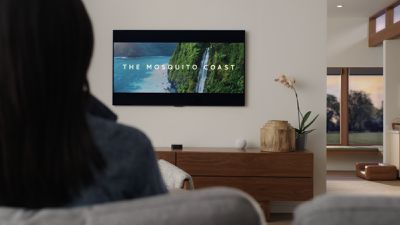 11:17 am: Yah Cason to talk about HomeKit improvements. With home keys, tap your phone or watch to unlock your front door. Ask HomePod mini to play something on your ‌Apple TV‌, completely hands-free. SharePlay changes the way you watch TV together. ‌Apple TV‌ app gets new Shared with You row.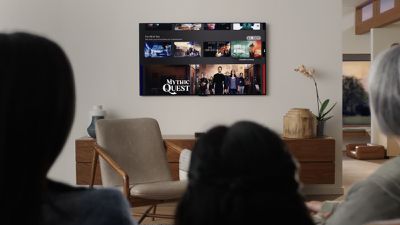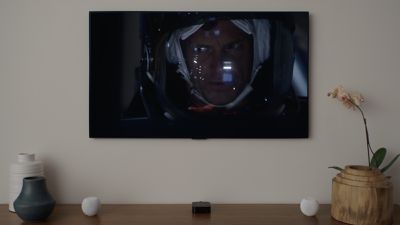 11:17 am: For All of You row in ‌Apple TV‌ based on everyone's interest for family movie nights. Adding ‌HomePod mini‌ as an external speaker for your ‌Apple TV‌ 4K.
11:18 am: Lossless audio for ‌HomePod mini‌ coming later this year. Bringing ‌HomePod mini‌ to new countries and adding personalized voice recognition everywhere it ships.
11:19 am: ‌Siri‌ integration with third-party apps that stays private. Matter interoperability standard with support coming in iOS 15.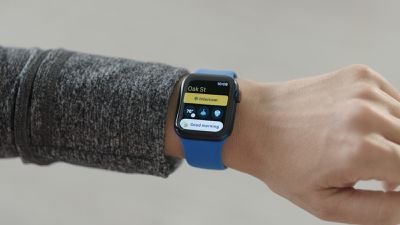 11:20 am: Home support on Apple Watch. See who's at your doorbell, view status, package detection, etc.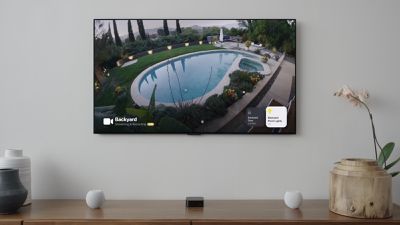 11:20 am: Can view multiple ‌HomeKit‌ camera feeds on ‌Apple TV‌ and control nearby accessories.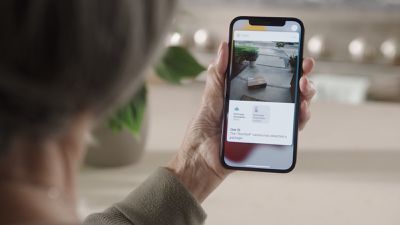 11:20 am: Craig is back to talk about macOS.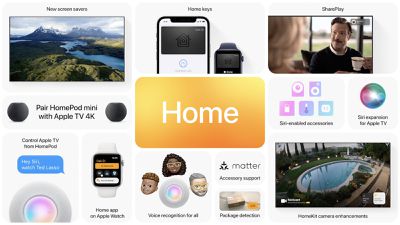 11:21 am: macOS Monterey!
11:24 am: New Universal Control feature which is expansion of Continuity. Put your ‌iPad‌ next to your Mac, you can move cursor back and forth, and it recognizes which device is being controlled.
11:25 am: Even works with more than two devices. Showing dragging a file from ‌iPad‌ across two Macs.
11:27 am: AirPlay to Mac. Can draw on ‌iPad‌, for example, and see your drawing on the Mac's screen. Or use the Mac as a speaker for playing songs.
11:27 am: Shortcuts coming to the Mac. Rich library of pre-built shortcuts just for Mac.
11:28 am: Multi-year transition of Automator to Shortcuts. Will continue to support Automator, but can import Automator actions to Shortcuts.
11:29 am: Now talking about Safari, the world's fastest browser. Up to 17 hours of browsing on M1 MacBooks. Users are doing more in the browser than ever before. That leaves lots of tabs. Tabs are more compact and lightweights, and there are new tab groups to reduce clutter. Beth Dakin to show it off.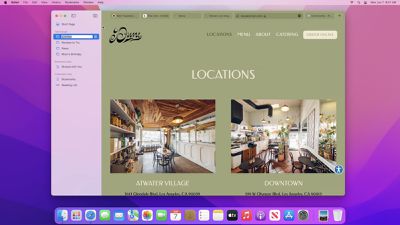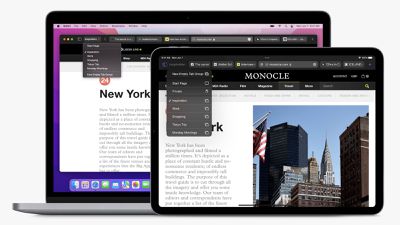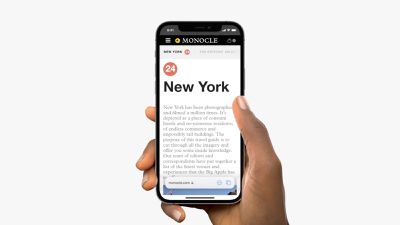 11:32 am: On ‌iPad‌, tabs and tab groups work just like on Mac, with instant syncing. On ‌iPhone‌, we've done something different for the small screen. New tab bar appears at the bottom under your thumb with a tap. Can swipe between them, or swipe up into a grid view.
11:33 am: Safari Extensions: We're now bringing web extensions to ‌iPad‌ and ‌iPhone‌. Share code with existing Safari Web Extensions to make it easy for developers.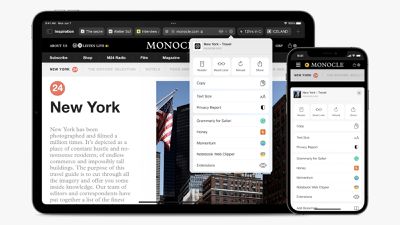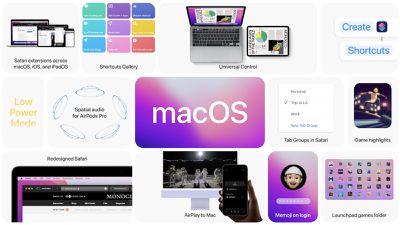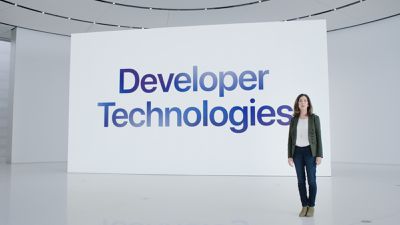 11:35 am: We've made incredible advances across our platforms this year, and we've built new developer technologies. Susan Prescott is here to discuss. New APIs, Swift features, and ‌App Store‌ features.
11:36 am: New APIs for SharePlay, voice isolation, focus, extra large widget size, Screen Time, rendering APIs for RealityKit, etc. Object Capture: macOS API turns a series of 2D images into 3D photorealistic models in minutes.
11:38 am: Majority of top apps are built using Switft. Ted Kremenek to talk about Swift improvements. One of the biggest features is Concurrency. Makes it easier to write code that works in parallel.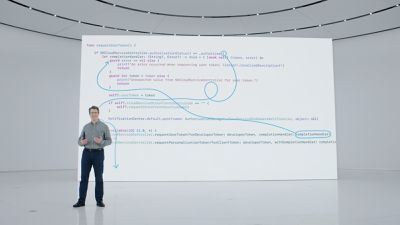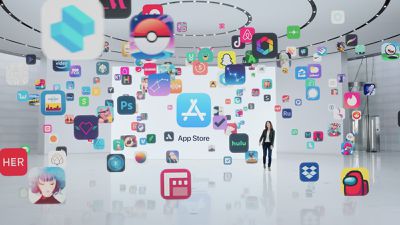 11:40 am: Ann Thai talking about the ‌App Store‌, which serves nearly 600 million weekly visitors. Apple has paid over $230 billion to developers. Today, we're introducing new features to reach more users. App product pages to show different features, screenshots, or even icons to different users.
11:42 am: In-App Events can be showcased on product pages, where users can sign up to be notified. Competitions, premieres, etc. ‌App Store‌ widget will show curated events.
11:43 am: Xcode Cloud simplifies the development process. Following a code change, Xcode can build the app in the cloud, freeing up your Mac for other things. Collaborators can also see the results of code changes. Xcode Cloud can also push new builds out for testing automatically.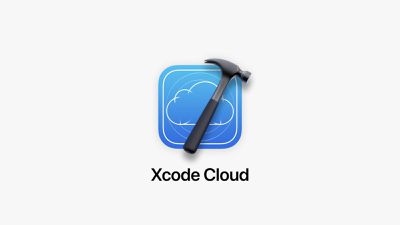 11:44 am: TestFlight coming to the Mac. Test your Mac apps including features like in-app purchases. Limited beta starting today, and expanding access throughout summer and fall. Available to all developers next year. Pricing and other details coming this fall.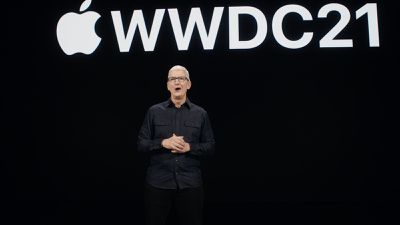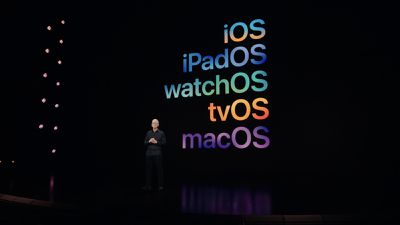 11:45 am: Cook back on stage to wrap up. OS releases available as developer betas today, with public betas next month. Public releases this fall.
11:46 am: Platforms State of the Union coming up later today, and a full week of sessions and labs. We're also providing pavilions, daily recaps, and more.
11:47 am: That's a wrap! Stay tuned to MacRumors for full coverage of today's announcements and other developments throughout the week!