The New iOS 11.4 Update Fixes Three Irritating Bugs
In addition to introducing support for Messages in iCloud, AirPlay 2, and stereo pairing for the HomePod, the new iOS 11.4 update, released this morning, introduces fixes for several high-profile bugs that have been plaguing iOS 11 users for months now.
First and foremost, the update addresses the "Black Dot" unicode bug that could crash apps on iOS devices with a specific character sequence involving certain emojis. Following the release of iOS 11.4, this particular sequence of characters will no longer cause apps like Messages to crash.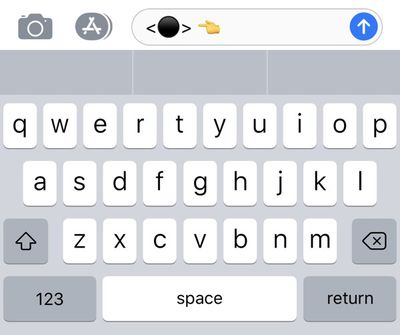 Apple says the update also successfully fixes an issue that caused iMessages to appear out of order on some devices, a frustrating bug that's been around for quite some time and has been the subject of many complaints.
The third major bug addressed in today's update is one that caused an app on the Home screen to appear in the wrong location, often hovering out of place above other apps. This is another bug that received widespread attention given the high number of users who saw the problem occur.

Image from MacRumors reader

Paulold


There are several additional bug fixes included in iOS 11.4, as outlined below in Apple's release notes:
- Addresses an issue that could prevent logging in or accessing files on Google Drive, Google Docs and Gmail in Safari
- Fixes an issue that could prevent data syncing in Health
- Fixes an issue that could prevent users from changing what apps can access Health data
- Fixes an issue where CarPlay audio could become distorted
- Fixes an issue where selecting music from your iPhone could fail when playing music over Bluetooth or when connected to USB on some vehicles
The iOS 11.4 update is available for download on all devices capable of running iOS 11, which includes the iPhone 5s and later, the iPad mini 2 and later, the iPad Air and later, and the 6th-generation iPod touch. You can download the update by going to Settings --> General --> Software Update. All of the new features in iOS 11.4 are outlined in our video below.
We expect iOS 11.4 to be one of the last updates to the iOS 11 operating system as Apple is preparing to introduce iOS 12 at the Worldwide Developers Conference next Monday. iOS 12 will be available in a beta capacity for developers and public beta testers ahead of a public launch in the fall.