Apple Releases iOS 11.2.6 With Fix for Telugu Character Bug That Causes iOS Devices to Crash
Apple today released iOS 11.2.6, the eleventh official update to the iOS 11 operating system. iOS 11.2.6 comes approximately one month after the launch of iOS 11.2.5, an update that introduced support for the HomePod, Control Center updates, Siri news, and a slew of bug fixes.
The iOS 11.2.6 update can be downloaded for free on all eligible devices over-the-air in the Settings app. To access the update, go to Settings --> General --> Software Update.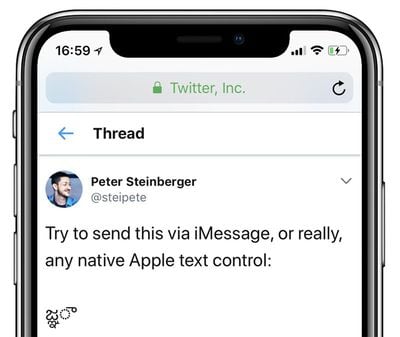 Apple released iOS 11.2.6 to address a bug that causes apps like Messages to crash on the iPhone and iPad due to an inability to render a specific character in the Indian language Telugu. When sent, received, or input into Messages, Safari, WhatsApp, Facebook Messenger, and more, the Telugu character can cause the app to freeze up and become unresponsive.
In Messages, for example, receiving the character can freeze up the entire Messages app on all of a person's Mac and iOS devices. The Messages app then refuses to function properly until the offending character is removed by deleting the conversation with the person who sent it. Apple's release notes are below:
iOS 11.2.6 includes bug fixes for your iPhone or iPad. This update:

Fixes an issue where using certain character sequences could cause apps to crash

Fixes an issue where some third-party apps could fail to connect to external accessories
Apple fixed the bug in iOS 11.3 and macOS 10.13.4, but those updates are still in beta testing and won't be released until the spring. Apple last week promised a minor update to fix the bug in the meantime.