Apple Shipped an Estimated 36.4 Million iPhones Worldwide in Q1 2019, a 30% Year-Over-Year Decline
Apple shipped an estimated 36.4 million iPhones worldwide during the first calendar quarter of 2019, which corresponds to Apple's second fiscal quarter, according to new estimates shared today by IDC.
Apple's worldwide smartphone shipments were down 30.2 percent from 52.2 million iPhones shipped in the first quarter of 2018. The decline in sales led to Apple losing the number two worldwide smartphone vendor spot to Huawei. In Q1 2019, Huawei shipped an estimated 59.1 million smartphones.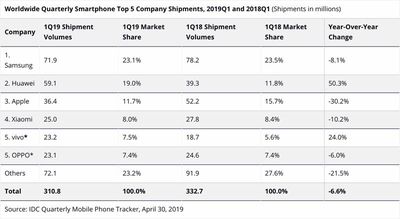 Apple had a challenging first quarter as shipments dropped to 36.4 million units representing a staggering 30.2% decline from last year. The iPhone struggled to win over consumers in most major markets as competitors continue to eat away at Apple's market share. Price cuts in China throughout the quarter along with favorable trade-in deals in many markets were still not enough to encourage consumers to upgrade. Combine this with the fact that most competitors will shortly launch 5G phones and new foldable devices, the iPhone could face a difficult remainder of the year. Despite the lackluster quarter, Apple's strong installed base along with its recent agreement with Qualcomm will be viewed as the light at the end of the tunnel heading into 2020 for the Cupertino-based giant.
While Apple was the number three worldwide smartphone vendor and Huawei took the second place spot, Samsung continues to dominate the market with an estimated 71.9 million smartphones shipped during the quarter for 23.1 percent market share.
Apple, meanwhile, had 11.7 percent market share, down from 15.7 percent in the year-ago quarter, while Huawei held 19 percent market share during the quarter. Xiaomi, Vivo, and Oppo trailed after Samsung, Huawei, and Apple.


Apple was the number two smartphone vendor in Q4 2018 due to stronger holiday quarter sales, but fell behind this quarter. Huawei saw significant growth in China according to earlier numbers from Canalys, a market where Apple is struggling.
"It is becoming increasingly clear that Huawei is laser focused on growing its stature in the world of mobile devices, with smartphones being its lead horse," said Ryan Reith, program vice president with IDC's Worldwide Mobile Device Trackers. "The overall smartphone market continues to be challenged in almost all areas, yet Huawei was able to grow shipments by 50%, not only signifying a clear number two in terms of market share but also closing the gap on the market leader Samsung. This new ranking of Samsung, Huawei, and Apple is very likely what we'll see when 2019 is all said and done."
Overall smartphone shipment estimates totaled 310.8 million units in the first quarter of 2019, marking the sixth consecutive quarter of decline. Apple no longer provides a breakdown of unit sales of the iPhone, iPad, and Mac, leaving estimates as the only way to get a glimpse of how Apple product sales are faring.
Update: Canalys also released its worldwide iPhone shipment estimates for Q1 2019, presenting a slightly better picture for ‌iPhone‌ sales. Canalys believes Apple shipped 40.2 million iPhones during the quarter, down from 52.2 million in the year-ago quarter.
That marks a decline of 23.2 percent and gives Apple 12.8 percent market share. It still ranks Apple as the number three worldwide vendor, coming in below Samsung and Huawei.