Apple's iPhone Sales in China Down an Estimated 30% in Q1 2019, Huawei Continues to Dominate
Apple's iPhone sales in China were down 30 percent during the first quarter of 2019, according to new shipment estimates shared today by Canalys.
Apple shipped an estimated 6.5 million iPhones during the quarter, marking its worst decline in two years. It shipped fewer smartphones in the country than Chinese vendors Xiaomi, Vivo, Oppo, and Huawei, coming in as the number five brand in China.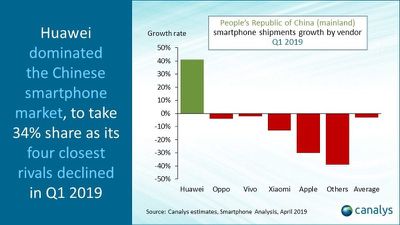 Huawei, the top vendor in China during Q1 2019, shipped 29.9 million smartphones for 34 percent market share. Huawei saw impressive growth during the quarter, with smartphone sales up 41 percent. Other smartphone vendors in China also saw drops in smartphone sales, though not as dramatic as Apple's decline.


Apple held just 7.4 percent market share in China during Q1 2019, down from 10.2 percent in the year-ago quarter. According to Canalys analyst Mo Jia, introducing features like 5G is "vital" to prevent ‌iPhone‌ demand in China from shrinking even further.
Apple's performance in China is concerning, given that the worst quarter for iPhone shipments is usually Q2 or Q3, not Q1 when new devices are still fresh. Apple has acted to cut iPhone retail prices, which has largely relieved the pressure from its channel partners. Despite the iPhone's installed base in China being well over 300 million, it is vital that Apple prevents users deserting it for Android vendors. Apple faces a challenge in China to localize its software and services offerings as quickly as in Western markets. Its hardware is therefore more exposed to competition in China than elsewhere. Bringing up-to-date features, such as 5G, next year, as well as localized software is vital to prevent demand shrinking further.
Overall smartphone shipments in China fell to 88 million units, the market's worst performance since 2013 and a three percent drop from the year-ago quarter. Huawei managed significant growth in China through increased investments in brick and mortar stores, a wider offering of consumer IoT devices, and penetration of rural markets with low cost smartphones.


Apple is set to announce its earnings results for the second fiscal quarter of 2019 (first calendar quarter) this afternoon. Apple is expecting revenue between $55 billion and $59 billion, a decline from the $61.1 billion reported in 2018.
Apple is no longer disclosing ‌iPhone‌, iPad, and Mac sales, which means there is no longer access to specific sales data to confirm analyst estimates.