Apple Trailed Samsung in Holiday Quarter With an Estimated 68.4M iPhones Shipped
Apple was the number two smartphone vendor in the world during the 2018 holiday quarter with an estimated 68.4 million iPhones shipped, according to new data shared today by IDC.
IDC's new iPhone shipment estimates come one day after Apple's Q1 2019 earnings call, which corresponds to the fourth calendar quarter of 2018. Apple no longer provides unit sales of ‌iPhone‌, iPad, and Mac, leaving it to analysts to guess just how many devices were sold.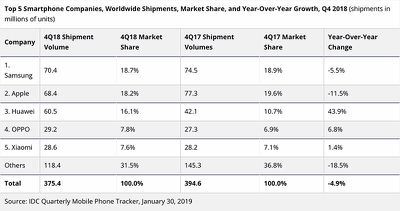 Samsung was the number one smartphone vendor during the quarter, according to IDC, with 70.4 million smartphones shipped for 18.7 percent market share.
Apple, as the number two vendor, held 18.2 percent market share, but saw an 11 percent decline in ‌iPhone‌ shipments. During the holiday quarter of 2017, Apple shipped 77.3 million smartphones, so if IDC's 68.4 million estimate is correct, Apple sold 8.9 million fewer iPhones.
Apple saw iPhone volumes drop 11.5% in 4Q18 marking one of the more challenging iPhone quarters in terms of growth, despite the three new models. Total iPhone volumes were down 3.2% for the full year, which is understandable considering its two largest markets (the United States and China) both experienced the worst year for smartphone performance ever. Apple is certainly not out of the game, but the likelihood of not having a 5G iPhone in 2019 means it will need to tell a strong iPhone and, more importantly, ecosystem story to succeed. If anyone can do it, it is Apple. But it certainly won't be easy when faced with all the other downward market pressures.
IDC's data suggests that Apple sold more devices than Huawei, with Huawei shipping 60.5 million smartphones during the quarter. Huawei and Apple have been fighting for the number two position, with Huawei surpassing Apple during the second calendar quarter of the year.


Huawei is the smartphone vendor that saw the most growth during the quarter, with shipments up 43.9 percent. Oppo and Xiaomi were the number four and five smartphone vendors, respectively, with 29.2 and 28.6 million smartphones shipped.
Overall, IDC says that 375.4 million smartphones were shipped during the quarter, down 4.9 percent year over year and marking the fifth consecutive quarter of decline.
"Globally the smartphone market is a mess right now," said Ryan Reith, program vice president with IDC's Worldwide Mobile Device Trackers. "Outside of a handful of high-growth markets like India, Indonesia, Korea, and Vietnam, we did not see a lot of positive activity in 2018. We believe several factors are at play here, including lengthening replacement cycles, increasing penetration levels in many large markets, political and economic uncertainty, and growing consumer frustration around continuously rising price points."
IDC is more generous with its ‌iPhone‌ shipment estimate than Strategy Analytics. Yesterday, Strategy Analytics said that Apple shipped an estimated 65.9 million smartphones for a 15 percent decline year-over-year. Canalys, meanwhile, is more optimistic and says that Apple shipped an estimated 71.1 million smartphones for a decline of just 7.3 percent year-over-year.
With Apple no longer offering a breakdown of unit sales of the ‌iPhone‌, ‌iPad‌, and Mac, analyst estimates from sources like IDC and Strategy Analytics won't be able to be confirmed.