Report Reveals Apple News Brings Publishers Much Higher Traffic But a Lot Less Ad Revenue
An extensive new report by Slate has revealed the challenges publishers are facing when it comes to profiting from Apple News despite the platform's growing readership.
According to the report, page views on Apple News have roughly tripled since September 2017, and the app has now surpassed Facebook as a driver of readership.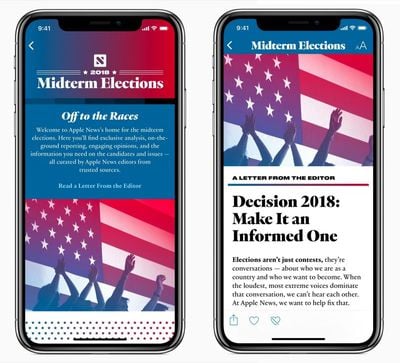 Unlike Google and Facebook however, Apple News hosts content within the app instead of sending readers to the original website, depriving publishers of ad revenue.
In a stark example, Slate revealed that it earns more money from an article that gets 50,000 page views on its own site than it does from 54 million views on Apple News.
Apple News has so far offered publishers few opportunities for generating ad revenue, although Apple recently added support for Google's industry standard ad-serving tool DoubleClick.
Still, Apple's privacy policy ensures limitations: Google's ad manager can serve traditional banner ads including animated GIF ads, but it can't yet be used to serve HTML5-based ads or pre-roll video ads.
Despite the struggle, publishers are reportedly continuing to embrace Apple News in the hope that things will eventually change and given the huge potential opportunities for exposure that the platform offers. The app now comes pre-installed on all new Macs and iOS devices in countries where Apple News is available.
Apple has also reportedly urged major U.S. newspapers about adding their content to the Texture magazine app that Apple purchased in March, with a view to eventually integrating the subscription-based service into Apple News.