Apple to Acquire Digital Magazine Subscription Service Texture and Integrate Into Apple News
Apple today announced it has signed an agreement to acquire digital magazine subscription service Texture, available on iPad, iPhone, and other platforms. The deal is pending approval and financial terms were not disclosed.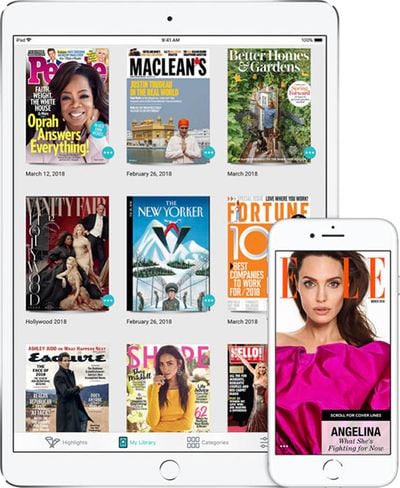 Apple's services chief Eddy Cue, who revealed the news at the SXSW media festival in Austin, Texas today alongside Apple's press release:
We're excited Texture will join Apple, along with an impressive catalog of magazines from many of the world's leading publishers. We are committed to quality journalism from trusted sources and allowing magazines to keep producing beautifully designed and engaging stories for users.
John Loughlin, CEO of Next Issue Media, a conglomerate of publishers and media companies which own Texture:
I'm thrilled that Next Issue Media, and its award-winning Texture app, are being acquired by Apple. The Texture team and its current owners, Condé Nast, Hearst, Meredith, Rogers Media, and KKR, could not be more pleased or excited with this development. We could not imagine a better home or future for the service.
Texture, founded in 2010, provides unlimited access to over 200 digital magazines for $9.99 per month. Magazines can be read on up to five devices per subscription, with the ability to download issues for offline reading.
Available magazine titles include People, Vogue, Rolling Stone, National Geographic, GQ, Sports Illustrated, Wired, Maxim, Men's Health, GQ, Bloomberg Businessweek, ESPN The Magazine, and Entertainment Weekly. New issues are available alongside a searchable archive of thousands of past issues.
Apple acquiring Texture should strengthen its relationships with several major publishers, and the subscription-based platform will be another source of recurring revenue for the company's growing services business. Texture last confirmed it had "hundreds of thousands" of subscribers back in 2016.
iPad and iPhone users can download the Texture app for free from the App Store and take advantage of a free seven-day trial. Apple confirmed the app will remain available on other platforms, including Android, Kindle Fire, and Windows 10.
Update: Cue at SXSW confirmed that Texture will be integrated into Apple News.