Apple Expected to Launch Subscription News Service Within Next Year Following Texture Acquisition
Apple plans to offer a subscription-based news service within the next year, according to Mark Gurman, reporting for Bloomberg News. Apple declined to comment on the report, as it has not announced the plans publicly.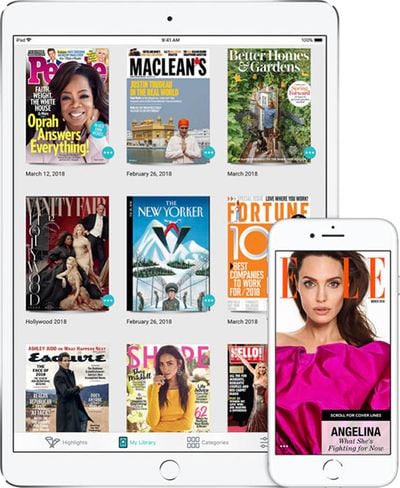 The service is said to be based on subscription-based digital magazine app Texture, which is expected to be integrated into the Apple News app on iPhone and iPad, pending approval of Apple's agreement to acquire the company.
Texture provides unlimited access to over 200 digital magazines for $9.99 per month. Available magazine titles include People, Vogue, Rolling Stone, National Geographic, GQ, Sports Illustrated, Wired, Maxim, Men's Health, GQ, Bloomberg Businessweek, ESPN The Magazine, and Entertainment Weekly.
"We are committed to quality journalism from trusted sources and allowing magazines to keep producing beautifully designed and engaging stories for users," said Apple's services chief Eddy Cue, on Apple acquiring Texture.
The service would essentially be like Apple Music, which provides unlimited streaming of over 45 million songs for $9.99 per month, but for news and magazines. The revenue would help boost Apple's growing services division, including the App Store and iCloud, while a cut would also go to publishers.
The premium tier would likely complement the existing ad-supported content available within the Apple News app, which is currently available in the United States, Australia, and the United Kingdom on iOS 9 and later.
Apple previously offered a Newsstand app with digital magazines and newspapers, but subscriptions were only available on a title-by-title basis.