Barclays Says AirPods Continue to Grow, HomePod Sales Have Been Underwhelming
Barclays analyst Blayne Curtis and his associates recently spent a week in Asia meeting with companies within Apple's supply chain, and today they shared research on iPhones, AirPods, and the HomePod gathered from their trip.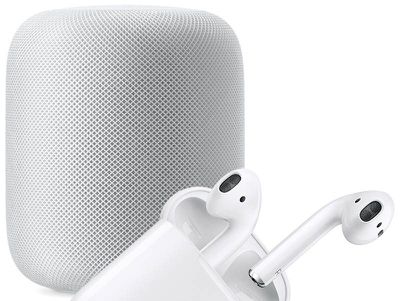 In terms of AirPods, the analysts expect Apple will continue to increase production of the wireless earphones. Barclays forecasts that AirPods shipments will likely approach 30 million units in 2018, within the ballpark of KGI Securities analyst Ming-Chi Kuo's estimate of 26-28 million units.
AirPods remain backordered on Apple's online store, with orders placed today estimated for delivery within 12 to 13 days in the United States and several other countries. The wireless earphones have been in short supply since December after availability briefly improved during the fall months.
The lengthy shipping estimates for AirPods suggests Apple may still be having difficulties manufacturing the wireless earphones, can't keep up with strong demand, or is dealing with some combination of those two factors.
Apple doesn't disclose AirPod sales, but chief executive Tim Cook said the company's total revenue from wearables was up almost 70 percent year over year. Apple's broad "Other Products" category, including AirPods, Apple TV, and Apple Watch, set a new all-time record with $5.5 billion in revenue last quarter.
In contrast with the popularity of AirPods, Barclays says HomePod sales have been "underwhelming" so far. The research note says Apple planned an initial production run of 6-7 million units, but it's unclear how many have sold.
Apple will soon release a wireless charging case for AirPods to be used with its upcoming AirPower charging mat. Beyond that, Bloomberg reported that Apple may release new AirPods with "Hey Siri" functionality as early as this year, and a subsequent pair with water resistance as early as next year.
Barclays also believes Apple will release a new pair of AirPods in early 2019, but it's unclear if they are referring to the pair with "Hey Siri" functionality or the subsequent water-resistant ones.
And for the HomePod, a relatively sketchy rumor out of China suggests Apple may release a smaller version of the speaker later this year for between $150 and $200 in the United States. No further details were provided.
The research note corroborates Apple's widely rumored plans to launch a new iPhone X, a so-called iPhone X Plus, and a lower-priced 6.1-inch iPhone X-like device with some design compromises such as an LCD instead of OLED display, 3GB of RAM instead of 4GB, a single-lens rear camera, and no 3D Touch.
An excerpt from the research note, edited slightly for clarity:
Looking ahead, we expect iPhone X production to cease entirely before this year's launches and now believe the 6.1" LCD model could be half or even more of the mix in the second half of 2018. The LCD version will likely be tiered between the iPhone 8 and iPhone X2 with cut down features; we expect it will have only 3GB RAM, a single rear camera, and lack 3D Touch, but still have the new form factor with Face ID. In terms of lower Bill of Materials, we note the LCD screen module costs less than half the cost of an OLED one. Further, we expect the iPhone X2 and a Plus-sized version to also be launched, likely with 4GB of RAM, and Intel to gain modem share this cycle. However, rear 3D-sensing doesn't happen until 2019 or later.
The information about the new iPhones is entirely in line with research previously shared by KGI Securities analyst Ming-Chi Kuo.