Chinese Report Says $150-$200 HomePod and $799-$899 MacBook Air to Launch This Year
Apple will launch lower-priced versions of four products this year, including an iPad, iPhone, MacBook Air, and HomePod, according to a translated report from Taiwan's Economic Daily News via Japanese blog Mac Otakara.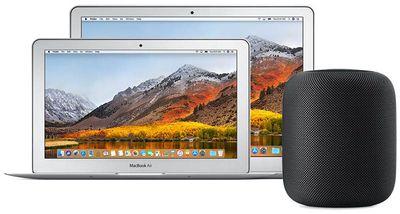 We've already heard rumors about more affordable iPad, iPhone, and MacBook Air models, but this is the first word of a supposedly lower-priced HomePod being on Apple's roadmap. The speaker is forecast to launch in the second half of 2018 for between $150 and $200 in the United States.
At $349, the current HomePod is considerably more expensive than the Amazon Echo and Google Home for $99 and $129 or less respectively. But the HomePod also has significantly better sound quality than its smart assistant rivals, in line with Apple positioning it as a high-quality speaker first and foremost.
A lower-priced HomePod would certainly be more competitive with the Echo and Google Home, but it's unclear if that would come at the expense of audio quality. One possibility is that Apple will release a smaller HomePod mini that still delivers premium sound relative to other portable speakers in that category.
Here's the full breakdown of the Economic Daily News report, based on what we could gather from a translated version:
9.7-inch iPad for $259: This lines up with a DigiTimes supply chain report from last December that said Apple is considering releasing a cheaper 9.7-inch iPad for $259 in the second quarter of 2018. The current 9.7-inch iPad was released in March 2017 for $349.
6.1-inch iPhone for $649 to $749: This lines up with a prediction from KGI Securities analyst Ming-Chi Kuo, who expects Apple to launch a mid-range 6.1-inch iPhone with Face ID, but with some design compromises like an LCD rather than OLED display to achieve the lower price point.
MacBook Air for $799 to $899: This lines up with another prediction from Kuo, who said Apple will launch a more affordable MacBook Air in the second quarter of 2018. The estimated price range comes from WitsView researcher Yubin Qiu. The current MacBook Air starts at $999.
HomePod for $150 to $200: Today's report cites industry sources who expect a more affordable HomePod to launch in the second half of 2018. It's hard to decipher details from the loosely translated report, but Mac Otakara's coverage seems to suggest it will be a smaller speaker.
It's worth noting that these prices are estimates, as it's hard to envision Apple sharing pricing information with its supply chain partners.
Of the four products, the new iPad and MacBook Air are most likely to debut first. Apple is rumored to unveil new devices later this month, but it's unclear if the announcements will be made via press release or at a media event. If there is a keynote planned, invites would certainly have to go out soon.
The new 6.1-inch iPhone should debut in September alongside a new iPhone X and so-called iPhone X Plus, and the lower-priced HomePod could certainly be introduced at the same event. The current HomePod launched in early February.