KGI: AirPods Shipments Will Double Next Year Given Strong Demand
AirPods will remain one of Apple's most popular accessories in 2018, with shipments likely to double to an estimated 26-28 million units on a year-over-year basis, according to Apple analyst Ming-Chi Kuo.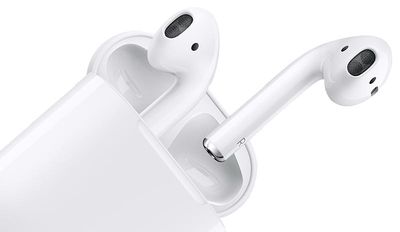 Kuo said there has been strong demand for AirPods, which he views as the most important accessory in Apple's wireless ecosystem. His prediction implies AirPods shipments will total 13-14 million units in 2017.
An excerpt from Kuo's latest research note with investment firm KGI Securities, a copy of which was obtained by MacRumors:
We believe demand for AirPods has been strong, and note that the shipping time of the product on Apple's official shopping website has shortened to 1-3 days, mainly thanks to an improved assembly process and increased capacity from Luxshare as the new assembler […] We expect AirPods to remain one of the most popular Apple accessories in 2018, with shipments likely to rise 100% YoY to 26-28mn units next year.
Chinese company Luxshare could become the main assembler of AirPods in 2018, with a higher order allocation than fellow supplier Inventec, after improving its assembly process and increasing production capacity.
Apple doesn't break out AirPods sales like it does with iPhones, iPads, and Macs. Instead, it groups the wireless earphones under its "Other Products" category, alongside Apple TV, Apple Watch, Beats, iPods, and other accessories.
Apple reported revenue of $3.2 billion from its "Other Products" category last quarter, up 36 percent year over year.
Last month, on an earnings call, Apple CEO Tim Cook said he was "thrilled with the momentum" of AirPods. He boasted that Apple's entire wearables business generated the annual revenue of a "Fortune 400" company in the 2017 fiscal year.
The combination of music streaming on Apple Music and AirPods is truly a magical experience for people on the go. We're thrilled with the momentum of these products. In fact, our entire wearables business was up 75 percent year over year in the fourth quarter, and in fiscal 2017, already generated the annual revenue of a Fortune 400 company.
AirPods launched for $159 in December 2016 after a two month delay, but orders on Apple's website faced a six-week shipping estimate until August 2017 as Apple struggled to improve the supply-demand balance of the wireless earphones.
AirPods shipping estimates have gradually improved since then, with orders now slated for delivery in under one week.
We haven't heard many rumors about second-generation AirPods, but Apple will be releasing an inductive charging case for the wireless earphones designed to work with its AirPower charging mat, which itself will launch in early 2018.