Apple Watch Sees Best Quarter Ever With Series 3 Sales Up More Than 100% Compared to Series 2 Sales Last Year
Apple today said that the Apple Watch saw its best quarter ever in Q1 2018, with the new Series 3 models selling at twice the volume of the Series 2 models last year. Apple Watch saw a 50% growth in units and revenue for the fourth consecutive quarter.
When combined with sales of Beats headphones and AirPods, total revenue from wearables was up almost 70 percent year-over-year.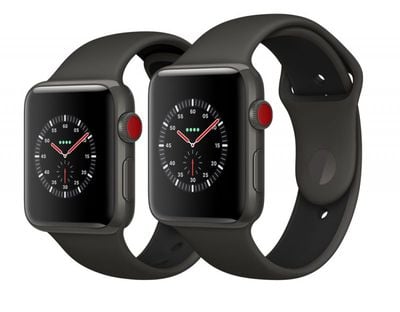 Apple's "Other" category, which includes Apple TV, Apple Watch, Beats, iPod, and Apple-branded and third-party accessories, was the major contributor to the company's revenue, bringing in $5.5 billion.
Apple says wearables, including the Apple Watch, the AirPods, and Beats, were the second largest contributor to revenue growth after the iPhone.
Last year, in Q1 2017, Apple's "Other" category was responsible for $4 billion in revenue, so overall revenue from that category was up $1.5 billion.