Geekbench Results Visualize Possible Link Between iPhone Slowdowns and Degraded Batteries
Primate Labs founder John Poole has plotted the kernel density of Geekbench 4 scores for iPhone 6s models running iOS 10.2, iOS 10.2.1, and iOS 11.2, visualizing an apparent link between lower performance and degraded battery health.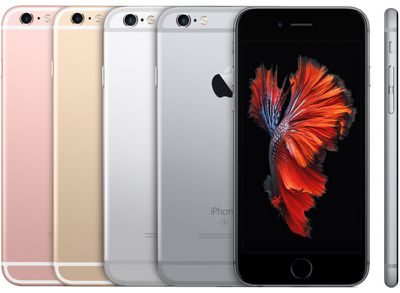 The charts show that on iOS 10.2, the vast majority of iPhone 6s devices benchmarked similarly in performance. However, Poole explains that the distribution of iPhone 6s scores for iOS 10.2.1 appears multimodal, with one large peak around the average and several smaller peaks around lower scores.
In other words, after iOS 10.2.1 was released last January, the performance of a percentage of iPhone 6s devices began to suffer.


In a statement, Apple said it made improvements in iOS 10.2.1 to reduce occurrences of unexpected iPhone shutdowns that a small number of users were experiencing. The shutdowns were reportedly caused by uneven power delivery from older batteries, which could cause an emergency shutdown of the devices.
While at least one report suggested that Apple tweaked its power management system in iPhone 6s devices, the company never disclosed what specific improvements it made to reduce the unexpected shutdowns.
A recent Reddit discussion, however, has reignited speculation that Apple is intentionally slowing down older iPhones to maximize power efficiency and stability when battery capacity has degraded, and reduce voltage-related shutdowns, and the Geekbench charts and Poole himself lend credit to that theory being true.
"The difference between iOS 10.2 and 10.2.1 is too abrupt to be just a function of battery condition," he said. "I believe … that Apple introduced a change to limit performance when battery condition decreases past a certain point."
The charts show that the number of iPhone 6s devices with lower Geekbench scores was even more pronounced on iOS 11.2, which is likely because the software update is around one year newer, which means that the battery capacity of many iPhone 6s devices has likely continued to deplete as expected.


Interestingly, even the iPhone 7 may be starting to be affected. While the distribution of Geekbench scores for the device on iOS 10.2, iOS 10.2.1, and iOS 11.1.2 appear identical, the results change with iOS 11.2 and start to resemble the iPhone 6s' degraded performance starting on iOS 10.2.1.
What this all means is that Apple may be intentionally slowing down older iPhones to maximize power efficiency and stability when battery capacity has degraded, as speculated, seemingly without publicly acknowledging so.
It's important to remember that all lithium-ion batteries naturally lose some of their ability to hold a charge over the course of a few years. Given the iPhone 6s was released in September 2015, the device has been available long enough that some users should consider replacing their battery regardless.
Apple charges an out-of-warranty fee of $79 to replace the battery of all eligible iPhone models in the United States. iPhone 6s users can contact AppleCare or schedule a Genius Bar appointment at a local Apple Store using the Apple Support app.
Apple did not immediately respond to our request for comment about the Geekbench findings. We'll update this article if we hear back.