Apple's Alleged Throttling of Older iPhones With Degraded Batteries Causes Controversy
A Reddit post over the weekend has drawn a flurry of interest after an iPhone 6s owner reported that a battery replacement significantly increased the device's performance running iOS 11. The ensuing discussion thread, also picked up by readers in the MacRumors forum, has led to speculation that Apple intentionally slows down older phones to retain a full day's charge if the battery has degraded over time.
According to TeckFire, the author of the original Reddit post, their iPhone had been very slow after updating to iOS 11, especially compared to their brother's iPhone 6 Plus, so they decided to do some research with GeekBench and battery life apps, and ended up replacing the battery.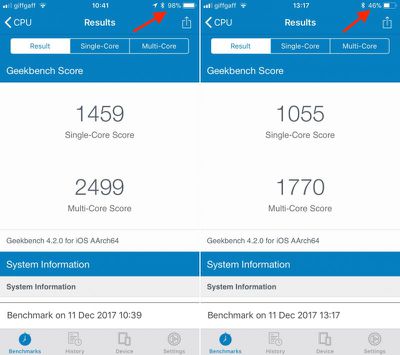 MacRumors' Geekbench scores for iPhone 6s before and after battery drain
Wear level was somewhere around 20% on my old battery. I did a Geekbench score, and found I was getting 1466 Single and 2512 Multi. This did not change wether I had low power mode on or off. After changing my battery, I did another test to check if it was just a placebo. Nope. 2526 Single and 4456 Multi. From what I can tell, Apple slows down phones when their battery gets too low, so you can still have a full days charge.
Just over a year ago, Apple launched a repair program for iPhone 6s owners after some users reported their devices were unexpectedly shutting down. Apple said the problem was down to a manufacturing issue affecting a "very small" number of iPhone 6s devices, and offered battery replacements free of charge to owners of devices within a limited serial number range.
Around two months later, Apple released iOS 10.2.1 and said the update resulted in an 80 percent reduction in unexpected shutdowns on iPhone 6s and a 70 percent reduction on iPhone 6 devices. However, Apple explained this was about fixing a more widely reported issue caused by uneven power delivery from older batteries, and claimed it was separate from the manufacturing fault that had caused it to recall a select number of iPhone 6s devices.
This weekend's Reddit thread – running to over 500 comments as of writing – appears to have kicked off a wave of speculation about whether the two shutdown issues are in fact related, and that Apple's fix involves dynamically throttling the phones' maximum clock speeds relative to battery output (voltage), to prevent them from drawing too much power and shutting down.
Reports that the performance of iPhone 6 series models can be improved by replacing the battery aren't entirely new, but the suggestion that Apple is intentionally throttling the performance of older devices, for whatever reason, is bound to cause controversy. We've contacted Apple for comment or clarification.
In the meantime, users interested in checking their phone's performance are also using the free CpuDasherX app to compare running clock speeds (a factory iPhone 6s comes in at 1,848MHz, for example). Let us know your findings in the comments below. Lastly, it's worth noting that DIY iPhone battery replacements or repairs performed by a third party will void any Apple warranty still covering said devices.