Apple's Education Store is Down, Back to School Promotion Incoming?
An eagle-eyed Reddit user has noticed that Apple's higher education store is currently unaccessible in countries including the United States, Canada, Mexico, and Singapore, fueling speculation that Apple could be preparing to launch its annual Back to School promotion for students and educators.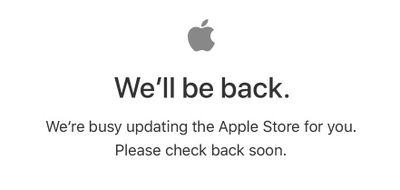 "We'll be back," the page reads, which is Apple's standard message when its website is being updated with new products and information. However, the downtime could also be nothing more than routine maintenance.
For over a decade, Apple has offered an annual Back to School promotion, offering higher education students, parents of higher education students, and educators incentives, such as a free pair of Beats headphones or an Apple Store gift card valued up to $100, with the purchase of a qualifying Mac, iPhone, or iPad.
Since 2006, Apple has launched its Back to School promotion in the United States and Canada as early as May 25, and as late as July 23. The promotion is usually extended to several European countries such as France, Germany, and Italy on either the same day, or no more than a few weeks later.
These have been the promotion's exact kickoff dates each year in North America:
• 2016: June 2
• 2015: July 23
• 2014: July 1
• 2013: July 2
• 2012: June 11
• 2011: June 16
• 2010: May 25
• 2009: May 27
• 2008: June 3
• 2007: June 5
• 2006: June 5
Apple's Back to School promotion is highly anticipated because it's one of the few times a year that Apple offers deals to customers, and many hold off on summer purchases until the event begins. Apple offered free Beats headphones in 2016 and 2015, free Apple Store gift cards in 2014, and free iTunes gift cards in 2013.
Apple launched a Back to Uni promotion in Australia and New Zealand in February, offering a free Apple Store gift card valued between $70 and $100 with the purchase of a qualifying new Mac or iPad Pro.
Update: An anonymous tipster has informed us that Apple's Back to School promotion will include free Beats Solo3 Wireless Headphones with the purchase of a qualifying Mac, and free BeatsX with the purchase of an iPad Pro, with the option to pay the difference to upgrade to Powerbeats or Solo3 Wireless Headphones. The tipster says the promotion will not include the Mac mini, iPad, iPad mini, or iPhone. This information has not been confirmed and, as such, may be inaccurate.


Apple has also added a "Campus Essentials" banner to its iPad accessories page that leads to a "Back to School" page, but no products are currently listed. This is a good indication that the promotion may launch imminently.