Apple Launches Back to School Promo: Free iPod Touch with Mac Purchase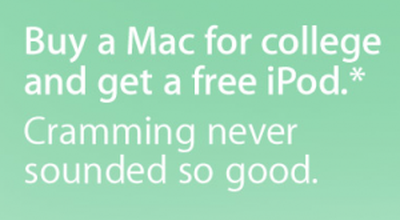 Apple has
officially launched
the Back to School promo for 2008.
If youre a student, faculty, or staff member and you buy a Mac before September 15, you can get a free iPod touch or iPod nano. After all, isnt college about seizing every opportunity?
Official list of Terms and Conditions (PDF) have been posted, and is primarily targeted at college students, faculty and staff. The promotion runs from June 3rd to September 15th and provides a rebate of up to $299 for qualifying individuals who buy a Mac and an iPod Touch or iPod Nano.
Although they only list the MacBook, MacBook Air, MacBook Pro and iMac on the promo page, the terms and conditions specify that "All new Macintosh computers and the Configure-to-order versions of these products are eligible, except for Mac mini and 17 iMac".
Customers may purchase an 8GB iPod Nano ($199) to receive a $199 rebate, or may purchase an 8GB ($299), 16GB ($399), or 32GB ($499) iPod Touch to receive a $299 rebate. The rebate can not be applied to the iPhone or any other iPod.
In addition to the US promo, a similar promotion has been announced in Canada.
This is the most aggressive Back to School promotion that Apple has offered and should dramatically increase the installed base of iPod Touch users over the next few months. The iPod Touch uses the same operating system as the Apple iPhone and will be able to run upcoming "iPhone applications" that will be released on the iTunes App Store.