Back to School Promo, and MacBook Pro Specs [Update]
With updates likely only hours away, a few final tidbits prior to the launch...
The iTunes Store reveals an image promoting the expected Back to School Promo: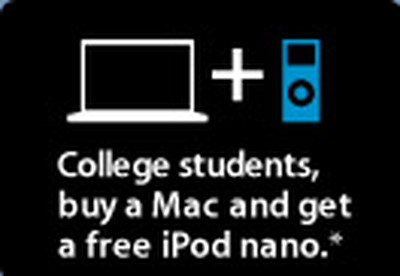 The promo which launches on Tuesday, allows college students to get a free iPod Nano with any Mac purchase (excluding the Mac mini). Students may opt to take a $199 credit against a more expensive iPod if desired. Unfortunately the iPhone seems to be excluded from this promo.
Some Page 2 MacBook Pro specs were posted earlier, pointing towards 2.2GHz / 2.4GHz MacBook Pro updates with GeForce 8600M GT video. Appleinsider has updated with comparable specs of the rumored 15" notebooks.
Update: Apple Store is down.