Apple Launches 2011 Back to School Promotion - $100 App Store Credit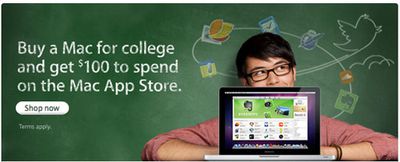 Apple has finally launched the Back to School promotion for 2011.
When you buy a new qualifying Mac with Apple education pricing* from June 16, 2011, through September 20, 2011, you'll get a $100 Back to School Card to use on the Mac App Store, the App Store, the iTunes Store, and the iBookstore.

As reported, this year's back to school promotion offers a $100 iTunes/App Store Gift Card with the purchase of a qualifying Mac. The promotion starts today and ends on September 20, 2011. International Apple Stores have also launched their local equivalents (65 British Pounds in UK, 75 Euro in Europe).
You must be a college student, student accepted to college, parent of college student or faculty/staff at any grade level. Qualifying computers include the MacBook, MacBook Pro, MacBook Air, iMac, and Mac Pro. Readers should also note that any Mac purchased now will also get OS X Lion for free.
Update: Apple has posted the terms and conditions. When the new MacBook Airs are released, they will also qualify.