Apple Launches 2015 Back to School Promotion, Offers Free Beats Solo2 Headphones With Mac Purchase
Apple today launched its annual Back to School promotion, offering a free pair of Beats Solo2 On-Ear headphones to qualifying students, parents of students and educators that purchase an eligible Mac, including the iMac, MacBook, MacBook Pro, MacBook Air and Mac Pro. As usual, the Mac mini and refurbished Macs are excluded from the deal. iPhones and iPads are also absent from this year's promotion.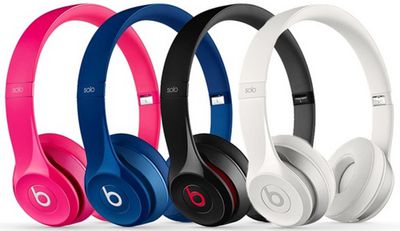 Apple will apply an instant credit in the amount of $199.95 to cover the full cost of the Beats Solo 2 On-Ear headphones in gloss black, white, red, blue, gray or pink. Apple is also offering the option to upgrade to Beats Solo2 Wireless On-Ear Headphones in space gray, silver or gold for $100 extra, which is the remaining balance after the $199.95 credit is applied.
Apple's Back to School promotion offered up to a $100 Apple Store gift card with the purchase of a qualifying Mac, iPhone or iPad in past years, including the 2014 and 2013 promotions, but the iPhone and iPad are not included in this year's deal. Apple has outlined the full eligibility requirements for the program in its terms and conditions for the United States [PDF] and Canada [PDF] on its website.
Apple has traditionally launched its Back to School program during June or early July, with the second Tuesday of July being the target date for several years in a row, but this year's launch has come later in the month than expected. Apple has also moved away from offering free Apple Store or iTunes gift cards for the first time since offering a free iPod touch with a qualifying Mac in 2010 and prior.
Apple's Back to School promotion runs from today through September 18, 2015 at Apple Retail Stores, and between August 6, 2015 and September 18, 2015 on the Apple Online Store, in the United States, Puerto Rico and Canada. Apple has not yet officially announced the promotion in the United Kingdom, France, Germany, Italy, Denmark or several other European countries that have offered the deal in previous years.
Juli Clover contributed to this report.
Update 9:30 AM Pacific: Apfelpage.de and iFun.de report that the same promotion will be offered in Germany starting August 6.