iOS 13 & watchOS 6 Now Available
Apple Launches 2014 'Back to School' Promotion with Apple Store Gift Cards Up to $100
As
indicated
yesterday, Apple today launched its annual
Back to School promotion
offering qualified educational purchasers an Apple Store gift card of $100 with the purchase of a new Mac or a $50 gift card with the purchase of an iPad or iPhone. This year marks the first time that Apple is giving out Apple Store gifts cards with purchases, as the company has usually offered iTunes Store/App Store/iBookstore gift cards in
years
past
.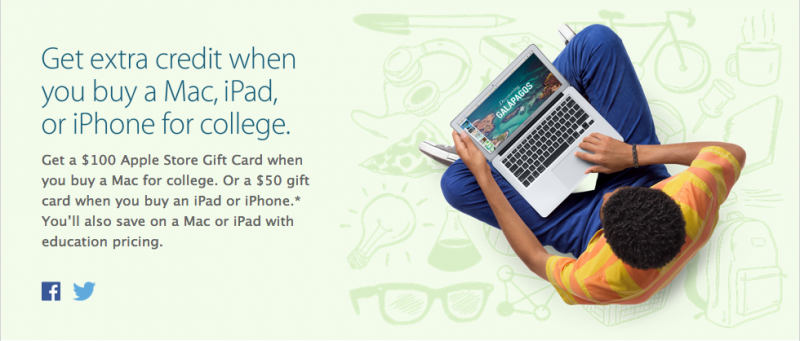 Get a $100 Apple Store Gift Card when you buy a Mac for college. Or a $50 gift card when you buy an iPad or iPhone.* You'll also save on a Mac or iPad with education pricing.
Eligible devices include all Macs except the Mac mini, all iPads (fourth-generation, iPad Air, iPad mini with Retina Display, iPad mini), and all iPhones (5s, 5c, and 4s). The full eligibility requirements for the program can be found in
Apple's terms and conditions (PDF)
.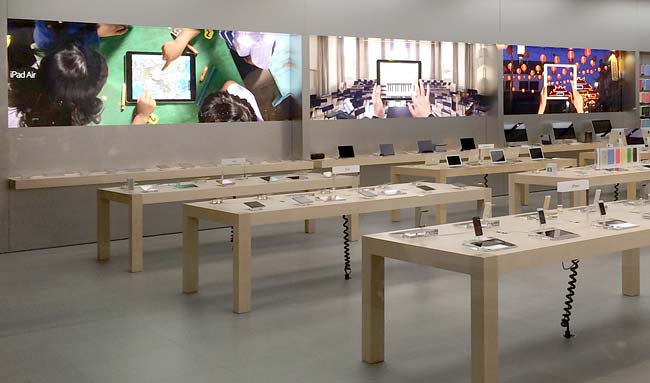 New Apple Store graphics (Image Credit: IFOAppleStore)
Apple has also updated its in-store graphics at its various locations, with
IFOAppleStore
noting
that the photography style of the newer images used are richer and darker than the previous ones. The new graphics are also said to be based on the recent
"Your Verse" iPad ads
which featured music composer Esa-Pekka Salonen and travel blogger Chérie King.
Apple's Back to School promotion runs from today through September 9 and is available in the United States. The program is expected to also be made available in Austria, Belgium, Canada, Denmark, Finland, France, Germany, Ireland, Italy, Netherlands, Norway, Spain, Sweden, Switzerland, and the United Kingdom.
Update
: For those purchasing through authorized campus stores, Apple is
offering
the traditional iTunes/App/iBooks Store gift card rather than an Apple retail/online store gift card.