10 Years Ago Today, the Original iPhone Officially Launched
Exactly 10 years ago today, on June 29, 2007, the original iPhone went on sale, six months after Steve Jobs stood onstage at Macworld Expo 2007 in San Francisco and told the world Apple was reinventing the phone, revolutionizing an entire industry like it had done with the Macintosh in 1984 and the iPod in 2001.
The iPhone, with its 3.5-inch display, lack of a physical keyboard, Apple-designed touch-based user interface, and multi-touch support, was unique among phones of that era, and as Jobs promised, it changed everything. The product that some
speculated
would
fail miserably
shaped the smartphone industry and made Apple one of the most valuable companies in the world.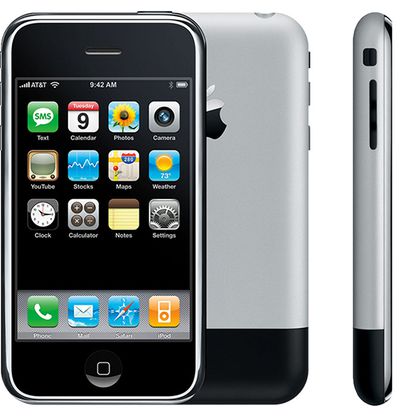 Even before the public had touched an iPhone, there was incredible hype, just like there is today with each new iteration. In the days leading up to the iPhone's release, MacRumors shared dozens of stories, like sightings out in the wild, photos of training manuals, benchmarks, in-store displays, and banners outside of stores. And of course, before the first iPhone launched, there were already rumors of an iPhone 2.



A

banner

at an AT&T location ahead of the iPhone's launch.


iPhone sales started at 6:00 p.m. local time on June 29, 2007, but people started lining up days ahead of time. Hours before the iPhone launched, hundreds of people were lined up at AT&T locations and the then-164 Apple Stores across the United States and around the world.

Employees decorate an Apple Store on iPhone launch day. Behind the scenes, iPhones allegedly arrived at stores under armed guard.


Apple Stores shut down at 2:00 p.m. to prepare for launch, and at 6:00 p.m. on the East Coast, the first iPhones were in the hands of customers. Apple Stores stayed open until midnight that day selling iPhones, and the rest is history. By October of 2008, Apple had sold 10 million iPhones, meeting an internal goal, and now, 10 years later on June 29, 2017, Apple has sold well over a billion iPhones.

MacRumors founder Arnold Kim's iPhone

unboxing photo

, taken on launch day.


When Steve Jobs introduced the iPhone, he presented it as three revolutionary products: a widescreen iPod with touch controls, a revolutionary mobile phone, and a breakthrough internet communications device. "An iPod, a phone, and an internet communicator. Are you getting it? These are not three separate devices," said Jobs. "This is one device."
Over the years, the iPhone has evolved and it's not just three products -- it's over a dozen. What was once just a phone, an iPod, and an internet communicator is now also a high quality point and shoot camera, a camcorder, a GPS device, a scanner, a portable gaming system, a wallet replacement, an e-book reader, a TV, a newspaper, a flash light, and so much more.
As Tim Cook said in 2016 when Apple reached its 1 billion iPhone milestone, the iPhone is "more than a constant companion," it's "an essential part of our daily life." These days, we don't ever have to be parted from our iPhones, even in the shower. It's indispensable.

The 2016 iPhone 7 and iPhone 7 Plus


Love Apple or hate Apple, there's no denying the impact of first iPhone. The story of how it was conceived and created is repeated over and over again in interviews and in books as we suss out every detail, no matter how small, to relive the legend of Steve Jobs and the Project Purple team toiling for two and a half years to conjure up a device "literally five years ahead" of every other mobile device on the market, as Jobs himself said.
Even 10 years later, there are new tidbits to learn and others to revisit. According to new anecdote from a recently published book, Jobs allegedly wanted a permanent "back" button to accompany the Home button, but he was ultimately talked out of the addition by longtime Apple designer Imran Chaudhri. Scott Forstall, who once led the software development team at Apple, also re-shared a story this month about how the idea for the tablet that preceded the iPhone came about because Jobs "hated" a guy at Microsoft and wanted show him up by creating a tablet with capacitive touch and multitouch. That tablet became the iPhone when the team shifted focus.
While Apple is a much different company today than it was 10 years ago, and there will never again be another "first" iPhone, we may see a little original iPhone magic in 2017. This year's iPhone, which some rumors have said will be marketed and celebrated as an anniversary iPhone, is looking like it will include some of the biggest design changes we've seen made to the iPhone since 2007.
The Home button, an iconic user interface element that's been present on iPhone for the last 10 years, is being eliminated in favor of an edge-to-edge OLED display that does away with the thick top and bottom bezels we're used to seeing on the iPhone. The "iPhone 8," as it has been nicknamed, will feature a glass body that allows Apple to take the first step towards wire-free charging. Touch ID, built into the iPhone since 2013, is expected to be built under the glass, an impressive engineering feat.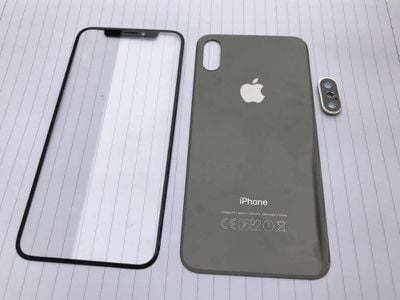 Nearly bezel-free front panel and rear panel with vertical camera, both said to be

iPhone 8 components


Most rumors have focused on design, but we've heard that additional biometric features like facial recognition or iris scanning could be built into the front-facing camera, and the rear camera is going vertical, perhaps to support new augmented reality and 3D scanning functionality. An Apple-designed A11 processor will bring CPU and GPU improvements that can power the augmented reality, artificial intelligence, and machine learning technologies Apple is heavily pursuing.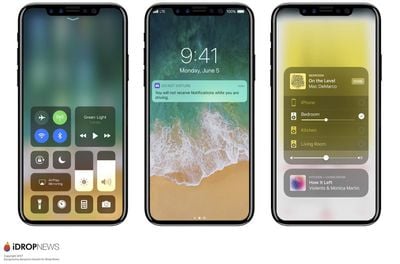 The iPhone's design has remained largely unchanged since 2014, so there's a lot to be excited about in 2017, so much so that analysts are predicting an
upgrade supercycle
. The design and technology advancements coming in the 10th anniversary iPhone will show just how far Apple's come and will shape iPhone development for the next 10 years.
At the end of the original iPhone event, then-CEO Steve Jobs said something that still dictates Apple's philosophy today. "You know, there's an old Wayne Gretzky quote that I love: 'I skate to where the puck is going to be, not where it has been.' We've always tried to do that at Apple. Since the very beginning. And we always will."