In a new Bloomberg interview with Steve Ballmer, the former Microsoft CEO revisited his famously dismissive remarks about the iPhone when it launched back in 2007.
Shortly after Steve Jobs revealed the first iPhone, then-Microsoft CEO Ballmer was asked what he thought of the device during a press conference.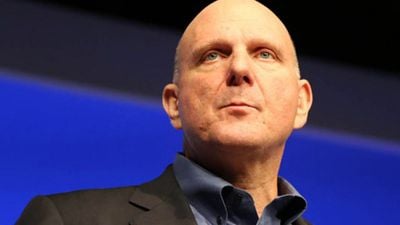 500 dollars? Fully subsidized? With a plan? I said that is the most expensive phone in the world. And it doesn't appeal to business customers because it doesn't have a keyboard. Which makes it not a very good email machine. ... Right now, we're selling millions and millions and millions of phones a year. Apple is selling zero phones a year. In six months, they'll have the most expensive phone by far ever in the marketplace.
Speaking to interviewer Emily Chang recently, however, Ballmer praised Apple's cellular subsidy model and admitted he wished he had come up with it first.

I wish I had thought of the model of subsidizing phones through the operators. People like to point to this quote where I said the iPhones will never sell. Well the price of $600 or $700 was too high and it was business model innovation by Apple to get it essentially built into the monthly cell phone bill.
Ballmer also admitted it was a mistake for Microsoft not to make handsets and tablets sooner. "I would have moved into the hardware business faster and recognized that what we had in the PC, where there was a separation of chips, systems, and software, wasn't largely going to reproduce itself in the mobile world," he said.
Steve Ballmer is asked about Apple's iPhone in 2007
Ballmer revealed his decision to take Microsoft into the hardware business contributed to the breakdown of his relationship with co-founder Bill Gates. "There was a fundamental disagreement about how important it was to be in the hardware business," Ballmer said. "I had pushed Surface. The board had been a little reluctant in supporting it. And then things came to a climax around what to do about the phone business."
Microsoft entered the hardware market in 2012 with the Surface RT tablet, which sold poorly and saw the company take a $900 million charge to write down the value of inventory. Since then, Microsoft's Surface range has taken off, and generated more than $4 billion in sales for the company for the fiscal year ending June 2016.