Apple Analysts Remain Upbeat Ahead of Expected iPhone X Upgrade Supercycle
Apple reported its second quarter earnings results on Tuesday, highlighted by revenue of $52.9 billion and 50.8 million iPhones sold. Apple said the results met or exceeded its own targets and guidance, but some of the numbers fell slightly short of what most financial analysts were expecting.
Nevertheless, the majority of analysts remain bullish on Apple's stock price heading into the second half of the year. MacRumors obtained research notes distributed today by over a dozen analysts, and we've compiled their updated AAPL price estimates and guidance for Apple's current third quarter below.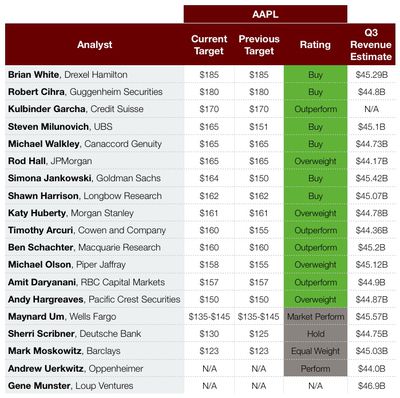 Katy Huberty of Morgan Stanley is one of several analysts anticipating an "iPhone supercycle" based on high expectations for the "iPhone 8" and a growing base of previous-generation iPhone owners:
We continue to believe that a combination of a growing base of aged iPhones and exciting new technology, including OLED displays, 3D sensors and wireless/fast charging will drive an iPhone supercycle that is still underappreciated by the market.
Rod Hall of JPMorgan rather surprisingly believes there is a "high likelihood" that the iPhone 8 will be announced or at least previewed at WWDC in June, marking the start of "iPhone mania," rather than in September as usual:
We believe there is a high likelihood that the company plans to announce or at least preview the upcoming new iPhone at WWDC which starts on June 5. Given this we would expect a weaker than normal Summer for Apple as consumers await a major product upgrade. […] Given that our numbers remain well above consensus forecasts we would advise investors to continue to stock up on AAPL before iPhone mania kicks off in earnest in early June.
Apple introduced the iPhone 3G, iPhone 3GS, and iPhone 4 at WWDC, but it broke that trend when it unveiled the iPhone 4s in October 2011, and each new iPhone since has been announced in September. A fall launch positions the iPhone well for the ensuing holiday shopping season.
Apple previewing the iPhone 8 at WWDC is certainly possible, but it doesn't make sense for a few reasons. For one, the smartphone is widely rumored to be facing mass production challenges that could push its wider availability into at least October or November, a whole four to five months after June.
Second, Apple pre-announcing a new iPhone in June would likely hurt its sales during its summer quarter, as some customers might choose to wait until the latest and greatest model is available. Rumors about a new iPhone are one thing, but Apple confirming a new model would be much more influential.
During the company's post-earnings conference call yesterday, Apple CEO Tim Cook surprisingly acknowledged a recent "pause" in iPhone purchases that he believes is due to earlier and more frequent reports about future iPhones.
Indeed, analysts have been looking toward the future, with all eyes set on the iPhone 8. "One more quarter before show time," wrote Steven Milunovich of UBS. "Hit snooze for 90 days," echoed Amit Daryanani of RBC Capital Markets. "Now we wait," said Benjamin Schachter of Macquarie Research.
Update: This article's headline has been updated with the now-known iPhone X name for Apple's high-end smartphone for clarity.