Apple Has Sold 1 Billion iPhones
Apple today announced that it recently sold its one-billionth iPhone, marking a major milestone for the company. CEO Tim Cook shared the news with employees at a staff meeting this morning, as noted in a news story published by Apple.
In a statement, Cook called the iPhone one of the most successful, world-changing products in history, echoing similar sentiments from yesterday's earnings call where he said believes the iPhone is becoming a device that people can't live without.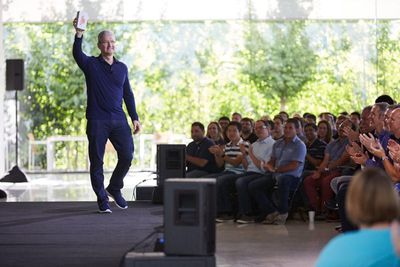 Tim Cook holds the billionth iPhone sold
"iPhone has become one of the most important, world-changing and successful products in history. It's become more than a constant companion. iPhone is truly an essential part of our daily life and enables much of what we do throughout the day," said Cook. "Last week we passed another major milestone when we sold the billionth iPhone. We never set out to make the most, but we've always set out to make the best products that make a difference. Thank you to everyone at Apple for helping change the world every day."
Apple first introduced the iPhone in 2007, and since then, the company has gone on to release nine generations, each with major improvements, revisions, and new features. While iPhone sales have been down for the last two quarters, the 1 billion milestone highlights what a successful product it is.
The iPhone has long been Apple's most important device, responsible for a majority of the revenue that the company brings in.
Next year, Apple will celebrate the 10th anniversary of the iPhone and the company has something big planned. Rumors suggest the 2017 iPhone will introduce some of the most significant design changes we've seen, with an all glass body and an edge-to-edge display with an integrated camera and Touch ID sensor. Other prospective features include wireless charging, biometric additions like iris or facial scanning, and a faster A11 chip.