Siri Voice Actress Susan Bennett Reveals More Details About the Origins of Apple's Virtual Assistant
It's been over three years since voice actress Susan Bennett came forward and revealed that she was the original female voice of Siri on iOS, which first debuted on the iPhone 4s in 2011. In a recent interview with Typeform, Bennett delved even deeper into her history with Apple and the early days of its virtual assistant.
In the interview, which is dotted with audio playback of Bennett's voice so readers can compare her normal voice to that of Siri, the voice actress remembers recording a new project in July of 2005 for a text-to-speech company called ScanSoft. The project was said to be for a phone-messaging system, but it turns out it was the basis for what would become Siri, two years before the original iPhone even came out.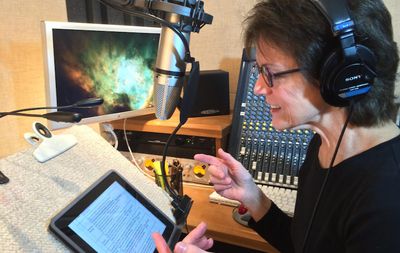 Bennett's job during that summer was to recite "nonsense phrases" that made little to no sense. A few years ago, the voice actor behind the Siri male voice, Daniel, described the same work process when he was employed by ScanSoft. ScanSoft eventually merged with Nuance, which powers the voices and speech recognition abilities of Siri.
A few of Bennett's lines included:

"Malitia oi hallucinate, buckry ockra ooze, Cathexis fefatelly sexual ease stump, Say the shrodding again, say the shroding again, say the shreeding again, say the shriding again, say the shrading again, say the shrudding again."

"We were recording for a text-to-speech company. And this was brand new to us. We had no real idea of what we were doing. We thought we were doing new scripts for phone systems."
Bennett said she was paid an hourly wage, and refused a five-year contract that was eventually offered to her when the job was done, mentioning that constantly using a monotone voice day-in and day-out was "the complete opposite of creative." Only later did she realize that every odd phrase provided Apple with "all of the sounds of the English language," allowing the company to go in and "reform them into new phrases and sentences," and eventually craft what would become known today as Siri.
The origin of Siri's name is also explained, with Bennett stating that Dag Kittlaus -- a co-creator of Siri who has now left Apple to found Viv -- had originally planned to name his daughter Siri. His wife eventually ended up having a boy, so Kittlaus used the girl's name for Apple's smartphone assistant instead.

"In Norwegian the word Siri means "beautiful woman who guides you to victory." Of course we know better, she's the feisty chick who tells you where to go, right. But, Dag and his wife were expecting a child, they thought it was going to be a girl, and they planned to name her Siri. But when the baby arrived it was a boy. So they gave the name to the app instead. And that's where Siri got her name."
Eventually, Bennett discovered that she was the voice of the ever-present voice assistant in the iPhone beginning in October 2011, and admitted that "it was a little creepy." She decided to stay quiet about her role for two years, finally revealing herself in a CNN interview in 2013. That same year, Apple ended up removing all of Bennett's voice work from Siri and replacing her with someone else within the completely redesigned iOS 7 update.

The original Siri in iOS 5
Bennett said that everything has worked out for the best, because her work as the original Siri has opened up aspects of her career that she never imagined, including introducing Steve Wozniak at the 2013 Dallas Digital Summit and even giving a TED Talk in 2016. Because of this, she harbors no ill will towards Apple and the secretive methods the company used when creating Siri.
"I kind of got the best of both worlds because I was the original, and I do get to promote myself, and when Siri starts leading us all into the sea it won't be my voice."
The full interview on Typeform is well worth a read, as it goes back to detail Bennett's career beginnings as the voice of an ATM named Tillie in the 1970s, and delves into how Apple's programmers created Siri's personality from Bennett's original voice work. The article also looks to the future of virtual assistants and what the AI helpers might look like in next-generation smartphones.