Samsung Galaxy S8 to Debut 'Viv', the AI Assistant From the Creators of Siri
Samsung said on Sunday it will launch its first AI virtual assistant in next year's Galaxy S8 smartphone, based on technology gained through its acquisition of Viv.
Viv is the AI firm run by Dag Kittlaus, co-creator of Apple's Siri. Last month, Samsung bought Viv with the intention of allowing it to operate as an independent company, while providing Samsung with a readymade AI solution that will enable it to go toe-to-toe with Siri, Google Assistant, and Amazon's Alexa.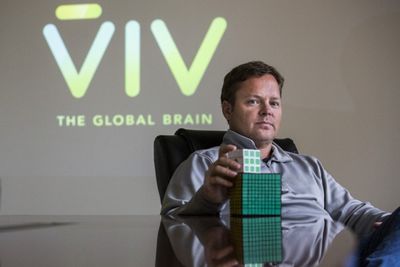 Siri co-creator Dag Kittlaus' Viv AI will appear in Samsung devices
According to a
Reuters
report, Samsung now plans to integrate the AI platform into its Galaxy smartphones and expand voice-assistant services to home appliances and wearable devices.
Samsung hopes the AI technology will help revive its momentum in the smartphone industry following the recall and discontinuation of this year's flagship Galaxy Note 7, which will cost the company $5.4 billion in profit through the first quarter of 2017.
Samsung didn't mention what types of services the AI would offer in its Galaxy S8, which is due to go on sale next year, but Viv features enhanced contextual understanding which allows it to understand the intent of a user's queries and create its own programs on the fly.

"Developers can attach and upload services to our agent," said Samsung Executive Vice President Rhee Injong during a briefing, referring to its AI assistant. "Even if Samsung doesn't do anything on its own, the more services that get attached the smarter this agent will get, learn more new services and provide them to end-users with ease."
With the preponderance of AI assistants in consumer devices – most recently in Google's Pixel smartphones – Viv is a technology that Samsung is eager to exploit, and is likely to make its way into the company's non-mobile devices, like washing machines, refrigerators and TVs.
In May, it was
reported
that Apple was planning on introducing a next-gen natural language API in its rumored
Amazon Echo competitor
. The technology behind the API is the work of VocalIQ, a natural language outfit purchased by Apple in October 2015. The API has the ability to do "session-based" contextual responses similar to Viv.