Apple Stores Celebrate Earth Day With Green Logos and Staff T-Shirts
In honor of Earth Day next Friday, April 22, Apple has updated the logos of over one hundred of its retail stores with green leaf accents in countries around the world, and provided retail employees with matching green t-shirts to wear. Apple is also promoting stores that run on 100% renewable energy with new signage.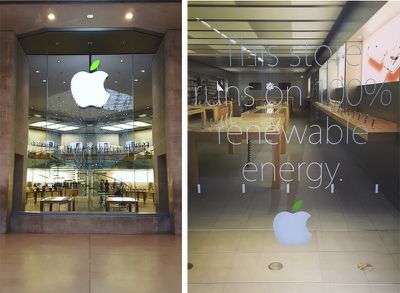 Many customers have shared pictures of the green-leafed Apple logos on Instagram and Twitter at stores in the
United States
,
Australia
,
Belgium
,
China
,
France
,
Hong Kong
,
Italy
,
Japan
,
Spain
,
United Kingdom
, and other countries. Apple retail chief Angela Ahrendts also tweeted some photos of the new green t-shirts.
Apple Store logos are typically illuminated green
on Earth Day itself
, but Apple is kicking off its support one week earlier this year on the same day it
switches from plastic bags to paper bags
. Apple has advised staff members to ensure that supplies of any remaining plastic bags are depleted before switching to paper bags.
Apple has heavily emphasized its environmental responsibility over the past month. At its iPhone SE event last month, Apple environmental chief Lisa Jackson said the company's goal is to "become 100% renewable in 100% of our operations worldwide," including all of its corporate offices, retail stores, and data centers.
Yesterday, Apple launched an "Apps for Earth" promotion in support of the World Wildlife Fund and released its annual environmental responsibility progress report [PDF] covering the 2015 fiscal year. Notably, Apple's recycling initiatives have allowed it to recover over $50 million in gold, copper, and other metals.
Update: While some have suggested that the new seasonal green t-shirts may go against the idea of environmental friendliness, a retail employee informed us that Apple has supplied team members with multiple shirts that will be used for the "foreseeable future." The employee also said that Apple recycles t-shirts each time it changes colors, while some take their old t-shirts home for personal use.