Apple has announced that its 29th retail store in China opens in Shenyang, the capital city of Liaoning, on Saturday, January 9 at 10:00 a.m. local time. The store will be located in the MixC shopping mall at 288 Qingnian Street in Shenyang's Heping District.
The new store will be open Monday to Sunday between 10 a.m. and 9:30 p.m. local time, and offer traditional Apple Store services, including the Genius Bar, Workshops, JointVenture, events and seminars.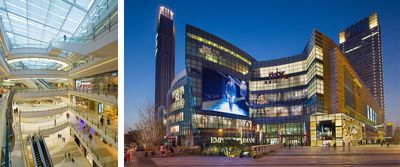 MixC shopping mall in Shenyang, China (Image: RTKL)
This new MixC location in Shenyang will mark Apple's 25th retail store in mainland China, and the company also operates four retail stores in Hong Kong. Shenyang is located about 250 miles (402 km) northeast of Dalian, a major port city in southern Liaoning where Apple's
21st retail store in China
opened on October 24, 2015.
Apple has aggressively expanded its footprint in China under the leadership of retail chief Angela Ahrendts, having opened new stores in Nanning on December 12, Beijing on November 28 and Chengdu on November 21. Apple also opened retail stores in Chongqing, Hangzhou, Hong Kong, Nanjing and Tianjin throughout 2015.