Apple is planning a major retail increase in China in the coming weeks, retail chief Angela Ahrendts tells China's Xinhua News Agency. According to Ahrendts, Apple's aggressive strategy involves the opening of five new retail stores in the next five weeks. Apple is timing this expansion with the festive shopping of the February 19 Chinese New Year holiday.
"We are opening five new stores before the Chinese New Year this year. Four of the stores are in brand new cities for us," Angela Ahrendts, Apple's senior vice president of retail and online stores, told Xinhua in a telephone interview.
Apple already has opened one of the five planned retail locations, with the recent debut of a new store in Zhengzhou, the provincial capital and home to one of Apple's Foxconn facilities. Other upcoming stores include the West Lake Apple Store in Hangzhou, which will to open January 24.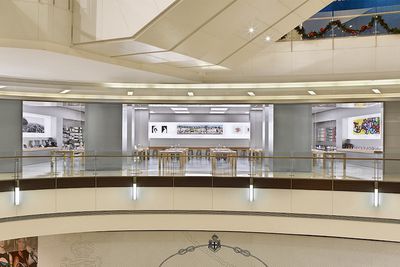 Apple's just-opened MixC store in Zhengzhou
With the addition of these five new stores, Apple will operate a total of 20 retail locations in China and Hong Kong, on the way toward a goal of 40 stores in the Greater China region over the next several years. These new stores reflect Apple's increasing emphasis on China, which Ahrendts told
Xinhua
is "a huge and important market for every global company today."
Ahrendts said Apple is hiring in China. The biggest challenge she sees is keeping up with demand while providing the same global customer service standards. She would not say where the other three other stores will be, but Apple's China website lists store jobs in 15 places, including Anhui, Guizhou, Hebei, Inner Mongolia, Shandong, Shanxi and Tianjin, none of which currently have Apple stores. One store in Shanghai is the busiest globally, receiving more than 25,000 visitors a day.
China is a growing market for Apple with an increasing proportion of its revenue coming from its Asian retail and online storefronts. Apple's Chinese online store is the fastest growing store for the company, with orders up more than 80 percent last year.