Apple, continuing its aggressive retail expansion in China, has announced that it will be opening its 26th retail store in the country in Chengdu, a major city in Sichuan Province, on Saturday, November 21 at 10:00 AM local time. The new store is slated to open less than a month after the grand opening of the 25th Apple Store in China in the major port city of Dalian on October 24.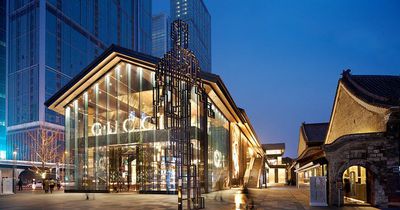 Taikoo Li shops in Chengdu, China, where an Apple Store will open November 21
The new Chengdu store will be located in the upscale Taikoo Li shopping plaza at 8 Middle Shamao Street in the Jinjiang District, where several high-end retailers such as Gucci, Omega and Zara are located. The store will be open 10 AM-10 PM local time everyday and offer traditional Apple Store services, including the Genius Bar, Workshops, JointVenture, events and seminars.

Apple is now hiring for its first retail store in Singapore, expected to open in 2016
Apple has also posted
new job listings
for its
first retail store in Singapore
, which is rumored to open in late 2016 at the Knightsbridge four-story luxury shopping center. The company is looking for Specialists, Geniuses, Creatives, Business Specialists and other traditional Apple Store positions.
Apple does not currently have an official retail presence in Singapore, a large city-state and country south of Malaysia in Southeast Asia, but the Apple Online Store and dozens of Apple Authorized Resellers operate in the region. The closest physical Apple Stores are located several hours away by plane in Australia and Hong Kong.