Upcoming 'Modern Family' Episode Shot Entirely on iPhone and iPad Cameras
The upcoming February 25 episode of ABC's multiple Emmy-winning sitcom "Modern Family" will take place solely on a MacBook screen (via The Verge). The episode, being shot by director and series co-creator Steve Levitan, used an iPhone 6 and iPad Air 2 to shoot every scene.
The episode's story focuses on Claire Dunphy's (Julie Bowen) attempt to reach her daughter Haley (Sarah Hyland) by contacting various other members of the Dunphy/Pritchett clan via multiple forms of MacBook apps, all while stuck in an airport.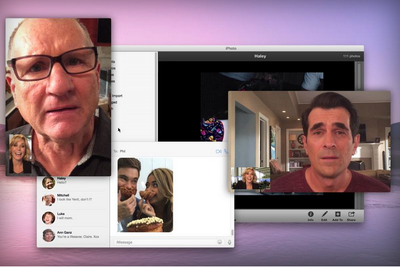 The show will not only use various chat apps like Apple's own FaceTime and Messages, but include references to everything from Reminders to the now-obsolete iPhoto. Levitan mentioned that the idea for the episode came from his own experience communicating with his kids in college through the vast array of chat software available today.
"I have two daughters at college, and we do a lot of FaceTiming," he said at a recent press event in Los Angeles. He was working one day with a number of emails and websites open on his machine, when a video chat from his daughter popped up. On the screen he saw his work, his daughter, himself, and his wife doing something behind him all at the same time. "And I realized on that screen you could tell so much about my life. So the original idea was from there."
The show has been a proponent of Apple-related gadgets in the past, with an early-series episode mostly dedicated to Claire's attempt to get Phil the original iPad. Apple was even reported to lend the show a slew of iPhones, iPads, and MacBook Pros for shooting the video chats and for allowing the show's editors to conduct post-production work once the shoot was done.
The episode has been so long in production - with motion graphics artist John Brown at the head - the team had been working on it since OS X Yosemite itself was in beta. "It was frustrating to be like, 'Act one, totally locked,' and then come in Monday and hear the FaceTime notification has changed," Brown said.
Besides a few slight liberties to the Apple OS X platform, including giving FaceTime the ability to handle multiple calls at once and a few aesthetic alterations to Yosemite's transparency options, The Verge reports the environment created by the episode "felt all too familiar."
The episode, entitled "Connection Lost" airs Wednesday, February 25 on ABC.