Apple Expanding 'Buzz Marketing' Team Focused on Product Placement
Apple yesterday posted a job listing for a "Buzz Marketing Manager" based out of New York (via Dwight Silverman and Business Insider), with the description outlining a position responsible for managing such areas as product placement in film and television and fostering relationships with "high-profile influencers" to promote the Apple brand.
- Product placement in film & television. Work with the creative side of film & TV to place Apple products. This includes getting necessary approvals, managing and trafficking product inventory, following up with studios, and monitoring media for successful placements.

- Build and maintain relationships with high-profile influencers. Influential Apple users could be directors, actors, artists, athletes, designers and select brands or institutions. Determine which relationships have potential to maximize benefit to Apple.

- Leverage relationships to book events at Apple Store Soho. Collaborate with Apple Retail, PR and iTunes to ensure maximum positive outcome for the effort. Produce a podcast for each event into iTunes and maximize the promotional value of the content through PR efforts and partner channels.
Apple describes the role as new and reporting to the head of worldwide Buzz Marketing, suggesting that Apple is expanding its efforts in the area.
Buzz marketing has been receiving significant attention recently, in large part due to Samsung's aggressive efforts in the area led by the "Oscar selfie" posted by Ellen Degeneres. The stunt, which became the most retweeted Tweet in history, was quickly revealed to have been coordinated by Samsung, which was a promotional sponsor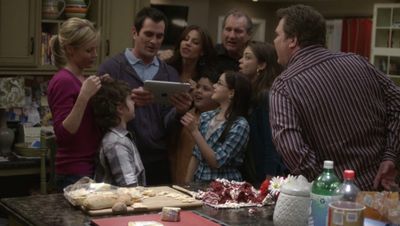 Modern Family's "Game Changer" episode with iPad promotional tie-in
Apple's Buzz Marketing program has been in place for two decades, however, having been developed and led by longtime Apple employee Suzanne Lindbergh until her
departure for Jawbone
last October. On her
LinkedIn profile
, Lindbergh highlights her role in helping produce over 1,500 events for Apple's in-store Meet the Filmmaker/Actor series, as well as her work on Apple's original
"Hello" teaser ad
for the iPhone and a promotional tie-in for an episode of
Modern Family
days before the launch of the original iPad.