Alleged iPhone 6 Geekbench Results Reveal 1.4 GHz Dual-Core A8 Chip, 1 GB of RAM
Over the weekend, Weibo user zzray showed off an apparently working 4.7-inch iPhone 6, offering a first look at the device. Now, the user has also posted more information about the device (Google Translate, via GforGames), including results from a Geekbench 3 test that reveal a 1.4 GHz ARM processor and 1 GB of RAM for the device.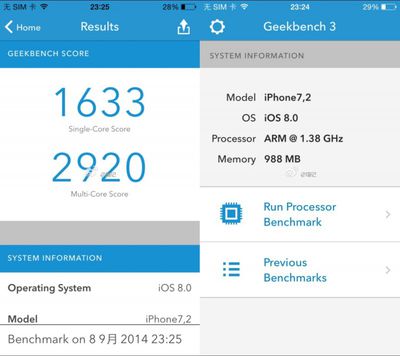 The results show that the iPhone 6 scored a 1633 on the single-core test and a 2920 on the multi-core test, which is greater than the 1305 single-core and 2347 dual-core Geekbench 3 scores for the 1.3 GHz A7 chip on the iPhone 5s. This also contrasts a previous report, which claimed that the A8 chip would top 2 GHz while remaining dual-core.
The data also displays 1GB of RAM, which is the same amount of RAM included on the iPhone 5s. A wiring schematic said to be from the iPhone 6 that surfaced last month also indicated that the device would have 1 GB of RAM.

iPhone 6 shot (left) compared to iPhone 5s (middle) and LG G3 (right)


The user has also posted a photo from the iPhone 6 and compared it to the same shot taken with iPhone 5s and LG G3. The 4.7-inch iPhone 6 is said to come with an improved camera module which is said to offer faster focusing speeds and power efficiency. Other leaks have pointed to the larger 5.5-inch iPhone 6 featuring an optical image stabilization system.

Apple is expected to reveal both the 4.7-inch and 5.5-inch iPhone 6 alongside the iWatch at a media event scheduled for today at 10 AM. MacRumors will have live coverage of the event as it unfolds.