Apple's Next-Generation A8 Chip Said to Top 2 GHz, Remain Dual-Core
Besides a larger display, Apple's upcoming iPhone 6 also may feature a faster A8 processor that pushes the system-on-a-chip beyond the 2.0 GHz threshold, claims GforGames citing Chinese media source cnBeta [Google Translate].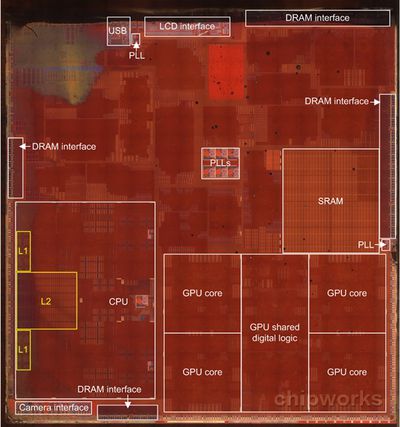 According to the latest information, Apple will reportedly increase the CPU frequency of its next-generation SoC to 2.0 GHz or higher per core, up from the 1.3 GHz (iPhone 5s and Retina iPad mini) or 1.4 GHz (iPad Air) of the A7 processor. The chip will keep the 64-bit, dual-core architecture of the current generation A7 CPU, but will be manufactured with a 20-nm process instead of the A7's 28-nm.
TSMC
and
Samsung
are thought be the primary manufacturers that are producing the A8 chip for Apple's upcoming iOS devices.
Though competing phones ship with quad-core processors, Apple's possible decision to stay with a dual-core design may be the result of the company using a custom-designed chip optimized for iOS and not an off-the-shelf solution. This optimization already has been shown in the current dual-core A7, which offers "desktop class" performance that outperforms other players in the mobile phone marketplace. In its detailed analysis of the A7 after launch, AnandTech found that even though the A7's performance is top-notch, there was still room for improvement as almost no iOS app took full advantage of A7's available processing power.