Rear Camera of 5.5-Inch iPhone 6 With Optical Stabilization and Other Parts Shown in New Photos
A number of parts from Apple's upcoming iPhone 6 models have leaked in recent months, but a new photo set from Feld & Volk [Instagram page] offers some fresh details on the new devices.
At the top of the list is the rear camera from the 5.5-inch iPhone 6. As shown in comparison photos, the module is thinner and otherwise larger than the one from the iPhone 5s, but with Apple shaving down the iPhone's thickness, previous leaks have indicated the company has needed to create a slight protrusion on the rear of the device to accommodate the camera.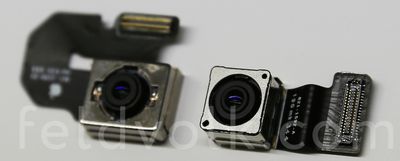 Rear cameras from 5.5-inch iPhone 6 (left) and iPhone 5s (right)
Feld & Volk says the rear camera does indeed appear to
include optical image stabilization (OIS)
, as the camera assembly has some freedom to float within its module. Rumors have differed on whether the iPhone 6 will include OIS and if so, whether both the 4.7-inch and 5.5-inch models will support it.

Rear cameras from 5.5-inch iPhone 6 (left) and iPhone 5s (right)
Feld & Volk indicates the 5.5-inch camera module does not fit in the 4.7-inch rear shell the firm has on hand, suggesting the two iPhone 6 models will use different camera modules. Supply chain analysts have indeed predicted that OIS will be a
differentiating factor
for the larger iPhone 6 model.

Inside rear camera module from 5.5-inch iPhone 6
Along with the rear camera, Feld & Volk also draws attention to several other parts, including protective mesh for the speaker and microphone holes, color-matched to the various iPhone color options.

Speaker and microphone mesh for iPhone 6
While the iPhone 6 power button has been
seen previously
, Feld & Volk has highlighted the presence of a rubber seal around it, which is a new addition for the iPhone line. The seals would help increase dust and moisture resistance for the iPhone 6.

iPhone 6 power button with rubber seal
The photos are the latest in a long line of recent leaks from Feld & Volk, which has been working to acquire iPhone 6 parts in an effort to quickly release its own version of the device. The company specializes in luxury modified versions of the iPhone selling for thousands of dollars, and is planning to launch its iPhone 6 models as soon as possible after Apple's official announcement next Tuesday.