A8 Chip From 4.7-Inch iPhone 6 Appears to Carry 1 GB of RAM
Last week, a wiring schematic said to be for the iPhone 6 was initially interpreted to be referring to the device's RAM, showing the same 1 GB of memory for the A8 as found in the current A7 chip. That was quickly determined to be an incorrect interpretation of component being shown in the schematic, however, and Apple's plans for RAM in the iPhone 6 have remained uncertain.
A new photo leak from Feld & Volk [Instagram page] and Sonny Dickson showing an assembled logic board from the 4.7-inch iPhone 6 has revealed a number of pieces of information already, and it appears from one of the photos that the A8 chip on the board does indeed include 1 GB of LPDDR3 RAM.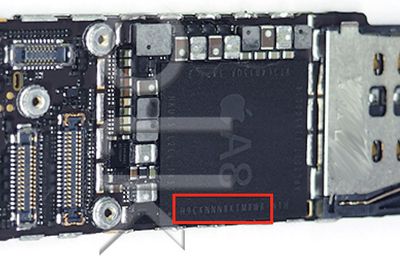 As pointed out by MacRumors forum member commander.data, a silk-screened part number on the A8 reveals that the package-on-package contains Hynix RAM. Based on Hynix's part number format, the character in the eighth position reveals the amount of RAM in the package, with an "8" denoting 8 Gb (1 GB) and a "B" denoting 16 Gb (2 GB). While it is a bit difficult to read the part number clearly given the distance and angle in the photo, our staff and several posters in our forum agree that the character very much appears to be an "8", indicating 1 GB of RAM.