Apparent Working 4.7-Inch iPhone 6 Reveals Home Screen Layout, Passbook Icon With Payments [Updated]
Chinese site cnBeta highlights a series of photos posted by Weibo user zzray showing what is claimed to be an official, functional, and activated iPhone 6. While the authenticity of the device can not be confirmed, it does have some interesting characteristics worth noting.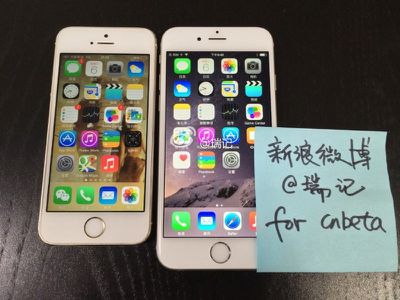 iPhone 5s (left) and claimed iPhone 6 (right)
(Click for full size)
First, the overall design looks very polished and in line with previous iPhone 6 leaks. The tapered edges of the front glass can be clearly seen, and the round dual-LED True Tone generally missing in clones is present. The body also shows a recessed cavity for the volume buttons, as has been seen recently on a shell believed to be legitimate but also generally missing from clones.

Claimed iPhone 6 (left) and iPhone 5s (right)
(Click for full size)
Photos of the home screen reveal a different icon for Passbook, adding a fourth horizontal stripe to the current stripes showing an airplane, a movie camera, and a coffee cup. This new red stripe appears to include an image of a credit card, likely indicating support for mobile payments through Passbook.

Claimed iPhone 6 (left) and iPhone 5s (right)
The home screen layout includes the possibility of a sixth row of icons (in addition to the dock at the bottom), one more than on 4-inch iPhones. The horizontal layout remains at four icons, with simply a bit more separation between the icons. Icons appear to be the same size on both the iPhone 6 and iPhone 5s, supporting the idea of a
1334 x 750 resolution
.

App Store (left) and Settings "About" screen (right) on claimed iPhone 6
(Click for full size)
The user has also posted a
brief video
showing the device being unlocked with Touch ID. Photos also show the App Store, as well as the About screen in the Settings app showing a 64 GB model running iOS 8.0 build 12A365, being accessed on the device.
While there is certainly a chance the device could be a fake or clone, there appear to be no immediate indications from the photos giving it away as fake.
Update 12:38 PM: A user on Chinese video sharing site MiaoPai has shared four videos of a "real" iPhone 6 (via The Tech Gadget), showing a variety of apps including Health, Settings, and Camera.