Optical Image Stabilization May Be Differentiating Factor for 5.5-Inch iPhone 6 [Updated]
Rumors have suggested Apple's next-generation iPhone may include camera improvements in the form of optical image stabilization with modules produced by sensor company InvenSense, but according to a new prediction from Pacific Crest Securities analysts John Vinh and Kevin Chen, optical image stabilization may be a feature limited to just the larger 5.5-inch iPhone.
Citing a cost premium of $4 to $5 for optical image stabilization over traditional auto focus solutions, the two analysts believe that Apple will use the feature as a differentiating factor between the 4.7-inch iPhone and the more premium 5.5-inch iPhone.
We believe the 5.5-inch iPhone 6 smartphone camera will support optical image stabilization (OIS) and anticipate that it will represent one of several opportunities at Apple that will benefit InvenSense. In our analysis, we believe Apple chose to only include OIS camera technology in the larger iPhone 6 given that there is still a significant cost premium ($4 to $5) over standard auto focus solutions and that it provides a point of differentiation between the 4.7-inch iPhone 6 and the step-up model (5.5-inch)
Optical image stabilization (OIS) is designed to reduce shake and stabilize photos and videos using either a lens with built-in stabilization or a separate sensor. In the past, this has been limited to traditional digital cameras, but recently, cell phone manufacturers like Google, HTC, Nokia have been incorporating OIS systems in order to improve photo quality. Currently, the iPhone 5s uses software-based image stabilization techniques, which are seen as inferior to OIS.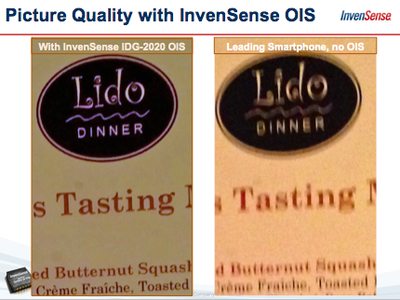 Apple aims to improve photo quality with each iteration of the iPhone, so new image stabilization techniques make sense for the next-generation phone. The company also has a history of limiting features to its flagship offering, such as Touch ID for the iPhone 5s, and it appears that the 5.5-inch iPhone may be the higher-end 2014 model. Rumors have suggested that the 5.5-inch iPhone 6 might include a $100 price premium over the 4.7-inch version and that it might be the only model to receive a sapphire crystal screen.
Along with optical image stabilization for the larger 5.5-inch iPhone, Chen and Vinh are also "increasingly confident" that the iPhone 6 will support NFC, based on supply chain conversations. This is in line with previous rumors that have suggested NFC may finally be deployed in the iPhone 6 ahead of an upcoming mobile payment solution.
While it was initially thought that Apple's 4.7-inch iPhone 6 would launch first due to manufacturing issues with the 5.5-inch version, it seems Apple may have solved those problems. A report from Bloomberg earlier this week has suggested both the 5.5-inch and 4.7-inch iPhones may launch simultaneously later this year.
Update 5:15 PM PT: KGI Securities analyst Ming-Chi Kuo is also predicting the larger 5.5-inch iPhone will be the only model to offer optical image stabilization due to supply constraints.
Differing from market consensus, we don't expect the main camera of the 4.7" iPhone 6 to use OIS VCM due to production capacity restraint at iPhone 6 VCM suppliers Mitsumi (JP) and Alps (JP). Rather, we predict it will use a middle-mount type of open-loop VCM updated from the one used in the existing iPhone 5S. The 5.5" iPhone 6 is more likely to be equipped with OIS VCM due to lower estimated shipments and the need for more product features to differentiate itself from the 4.7" iPhone 6
The smaller 4.7-inch iPhone is expected to feature a lens module that will offer faster focusing speeds and power efficiency than the module being used in the iPhone 5s, however, which Kuo suggests "will lead its rivals."