Chinese carrier China Mobile has begun taking preorders for the upcoming iPhone 6 ahead of the device's official launch, reports China Daily. Available at China Mobile Beijing, the preorder campaign appears to be aimed at drumming up interest for Apple's new devices.
On a website, China Mobile Beijing allows users to choose between the 4.7 and 5.5-inch iPhone 6, but the carrier does not offer images of the device or a potential release date. A China Daily source has suggested Chinese customers may receive the iPhone 6 as early as mid-month, however, which would be in line with previous rumors and past device release timelines.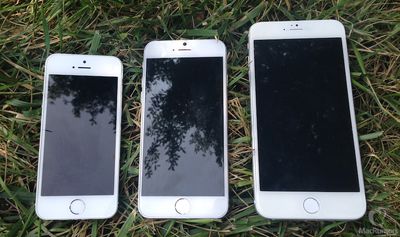 Mockup of 4.7 and 5.5-inch iPhone 6 depicted with iPhone 5s
China Mobile's preorder campaign also confirmed rumors that Apple will release larger screens for the device as buyers are asked to choose either a 4.7-inch version or a 5.5-inch one. The iPhone 5S has a 4-inch screen.

The program is available only in Beijing and, as of Tuesday evening, had attracted more than 33,000 orders. It remains unclear when the buyers can get the device. A person familiar with the matter told China Daily the first iPhone 6 could be distributed to Chinese customers as early as mid-month.
As of Tuesday evening in China, the campaign had garnered more than 33,000 orders, pointing towards strong interest in the iPhone 6. Analysts have predicted that the launch of the iPhone 6 could see a massive spike in upgraders and Android switchers, due to its larger display and redesigned chassis.
China Mobile, the world's largest mobile carrier with more than 700 million subscribers, first began carrying the iPhone in January of 2014, after extended negotiations with Apple. Apple CEO Tim Cook called inking a deal with China Mobile a "watershed" moment," allowing the company to reach millions of new customers and significantly expand its presence in China.
As it marks an opportunity for significant growth, China has become an increasingly important market for Apple. Tim Cook visited the country multiple times in 2013 and Apple has opened several retail stores in China in 2014, including locations in Wuxi, Chongqing, and Beijing.
Apple is expected to introduce the iPhone 6 at a September 9 media event, which may also include the debut of its wearable device and a payment initiative. Though Apple is expected to preview both the 4.7 and 5.5-inch iPhone 6 models, it is unclear if both devices will be available to launch at the same time due to production difficulties with the larger phone.