Larger iPhone 6 May Cause Massive Spike in Upgrades, Lure Android Users
Apple's upcoming iPhone 6 is widely rumored to include a larger display, which could encourage a significant number of users to upgrade in 2014, according to analyst Brian Marshall of ISI Group, who released a note to investors today.
Echoing past iPhone 6 rumors, Marshall suggests Apple will release two versions of the phone, one with a 4.7-inch screen and one with a 5.5-inch screen. The launch of two phones, both of which offer a total redesign of the existing 4-inch iPhone 5s, could spark a massive upgrade cycle.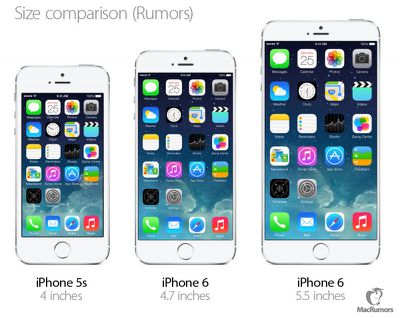 Apple's current installed base is estimated to be at 260 million users, and ISI Group calculates that half of today's iPhone purchases are made by upgraders, users who are upgrading their iPhones from an existing iPhone to a new version of the product.
ISI indicates that while the upgrade rate (percentage of installed base upgrading devices in a given quarter) was at 10 to 11 percent in 2011–2012, it has now dropped to approximately 9 percent because users have fewer reasons to upgrade with the iPhone 5c and 5s not introducing any significant design changes.


Peak quarters have seen upgrade rates of 12 to 14 percent, and ISI expects a similar upgrade rate during the second half of 2014 when the iPhone 6 is launched, resulting in a higher number of sales. An iPhone 6 with an increased screen size may also lure customers who have switched to Android from the iPhone because of the latter's lack of a large display.
"Large-screen envy" is prevalent among the iPhone installed base and we believe a ~5" form-factor iPhone would spark a massive upgrade cycle as well as many "Android switchers" returning back to the iPhone (we refer to this as the "mother lode" of all Apple upgrade cycles).
Citing both "large-screen envy" and "pent-up demand" ISI Group suggests the new iPhone 6 models could result in an extra $3.00 earnings per share following release in the second half of 2014.
Higher demand for an iPhone during a redesign year is not unreasonable, as it has now been two years since the 2012 introduction of the iPhone 5. While the iPhone 5s included multiple internal improvements and the Touch ID fingerprint sensor, it retained the same 4-inch display and design of the iPhone 5, as did the iPhone 5c, which was just a repackaging of the existing model.