Apple Reportedly Launching Larger iPad in October 2014, Larger iPhone in May 2014
Following a report last month stating that Apple supplier Quanta Computer had landed the contract to mass-produce a larger-sized iPad for late 2014, Digitimes is reporting that the 12.9-inch tablet will be released in October 2014 and will target North America's educational market. Apple is also said to be examining the possibility of replacing the 11-inch MacBook Air with the larger iPad.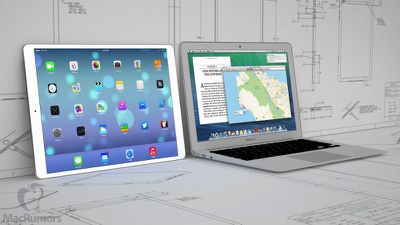 12.9-inch iPad (left) with 13-inch MacBook Air (right)
Apple's large-size tablet will be manufactured by Quanta Computer, and was originally expected to adopt either 12.9- or 13.3-inch panels, with recent rumors indicating that 12.9-inch has a better chance to be picked, the sources noted.
The report also states that Apple is planning to release a larger size iPhone in May 2014, using a 20nm processor manufactured by Taiwan Semiconductor Manufacturing Company (TSMC). Reports of a next-generation iPhone featuring a larger screen have surfaced occasionally throughout the past year, while the claim of an A8 processor made by TSMC is follows a report in June stating that the company had struck a three-year deal with Apple to produce A-series chips starting in 2014.
However, a May 2014 release date for the next iPhone would be somewhat of a surprising move by Apple, considering that the most recent reports have stated that the larger-screened iPhone will debut in late 2014. A release then would be in line with the October 2011 launch of the iPhone 4s, the September 2012 launch of the iPhone 5, and the September 2013 launch of the iPhone 5s and 5c.
A report last month from The Korea Times indicated that production of a 12.9-inch Retina Display to be used in a next-generation iPad was already underway at an Apple supplier in Korea, with a target date of early 2014. The larger tablet is also said to carry an improved display nearing ultra high-definition (UHD) quality, which would be significantly bigger and contain more pixels than Apple's current 9.7-inch iPad Air.