Apple Considering 4.7" and 5.7" Screens for 2014 iPhone Models, iPhone 5S and Low-Cost iPhone Due in September
Reuters reports that Apple is looking closely at larger screens for upcoming iPhone models, indicating that the company is specifically testing display sizes of 4.7 inches and 5.7 inches for iPhone models that could launch next year. The iPhone 5 carries a 4-inch display, up from the 3.5-inch displays found in prior models.
Apple is looking at introducing at least two bigger iPhones next year - one with a 4.7-inch screen and one with a 5.7-inch screen - said the sources, including those in the supply chain in Asia. They said suppliers have been approached with plans for the larger screens, but noted it is still unclear whether Apple will actually launch its flagship product in the larger sizes.

"They constantly change product specifications almost to the final moment, so you're not really sure whether this is the final prototype," said one person with direct knowledge of the matter.
The report also addresses Apple's plans for this year, claiming that the company is expected to deliver both an iPhone 5S with fingerprint sensor technology and a lower-cost iPhone in multiple colors in the September timeframe.
For this year, Apple is expected to launch two new models, widely referred to as the iPhone 5S, with new fingerprint technology, and a cheaper version in plastic casing, supply chain sources have said. Apple plans to dress up the cheaper phone in a range of 5-6 colors to differentiate it from the more expensive model that has traditionally come only in black and white.

The U.S. firm has discussed a price of $99 for the cheaper phone, the timing of which could slip to next year, one of the people said. It's not yet clear what the final price would be.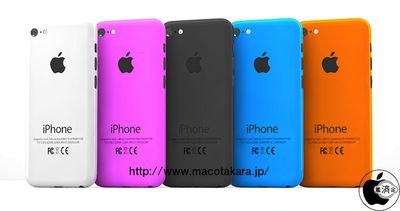 Rendering of color options for lower-cost iPhone
A
separate report
from
Mac Otakara
today claims that the cheaper iPhone will adopt colors from Apple's line of iPhone 4 bumpers, while the iPhone 5S will add a gold model in addition to the traditional black and white models.
Now I got an information from reliable source what the color set of low-cost iPhone seems to be same as iPhone 4 Bumper color.

Black, white, pink, orange and blue will be set. Green seems to be removed from it according to that information.

That source did not say if (PRODUCT) red-model is planed or not.

And, iPhone 5S, which will be shipped in August, has new color model. It is Gold, which color is reported by BGR with showing SIM-tray photos.

Finally, Reuters corroborates an April report from KGI Securities analyst Ming-Chi Kuo, claiming that trial production of the lower-cost iPhone had been planned to occur this month but that issues with color coatings have slowed that progress.
Rumors of a fingerprint-sensing iPhone 5S and lower-cost plastic iPhone have been ramping up for some time, and there have also been sporadic rumors of larger-screen iPhone models as competitors have increasingly embraced displays in the range of 5 inches or more.