Apple Reportedly Developing iPhones with Large Curved Screens for 2014, Enhanced Touch Sensors for Later Models
Apple is developing two next-generation iPhones with larger, curved glass screens set for release late next year, reports Bloomberg. The new iPhones will feature displays at 4.7 and 5.5 inches, with the report also claiming that Apple is working on enhanced touch sensors that incorporate pressure sensitivity for later iPhone models after next year.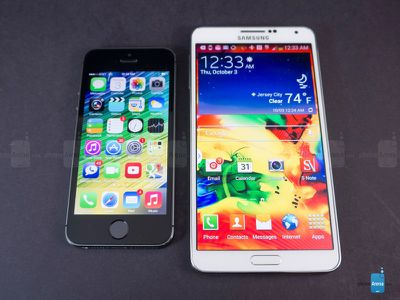 iPhone 5s vs. 5.7-inch Samsung Galaxy Note III (Source: phoneArena.com)
Two models planned for release in the second half of next year will feature larger displays with glass that curves downward at the edges, said the person, declining to be identified as the details aren't public. Sensors that can distinguish heavy or light touches on the screen may be incorporated into subsequent models, the person said.

The new iPhones will be Apple's largest at screens of 4.7 and 5.5 inches, the person said, approaching in size the 5.7-inch Galaxy Note 3 that Samsung Electronics Co. debuted in September. The South Korean maker last month released the curved display Galaxy Round, the latest phone in an array of sizes and price points that's helped keep it ahead of Apple in global market share.

The new Apple handsets are still in development and plans haven't been completed, the person said, adding that the company will probably release them in the third quarter of next year.
While Apple routinely develops prototype devices that are never released, rumors of an iPhone featuring a significantly larger screen have surfaced occasionally throughout the past couple of months. The Wall Street Journal reported in July and September that Apple had begun testing prototype iPhones with screens as large as six inches, and a report last month from NPD DisplaySearch speculated Apple may launch both a 4.7-inch and a 5.7-inch iPhone in 2014.
MacRumors released a printable papercraft version of a 5-inch iPhone back in February of this year after other rumors of a larger iPhone surfaced.